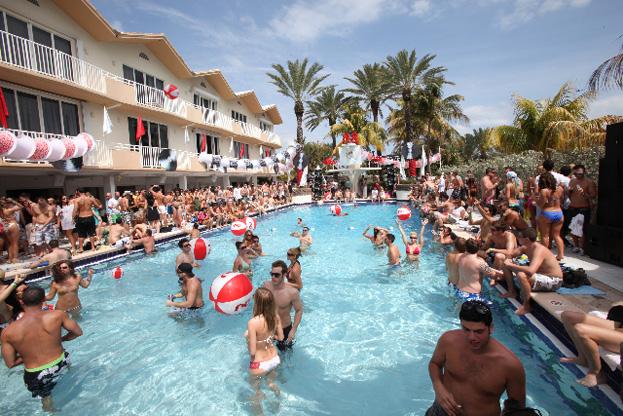 If you want to look your best on the beach and by the pool then follow in the footsteps of the Geordie Shore lads and have a quick go on the resistance bands before stepping out for the sun loungers. This might seem a bit extreme but if you want your hard work in the gym to pay off then looking your best when it counts is important. Here are some holiday workout tips to ensure look your best when by the pool or on the beach:
Don't Eat a Massive Breakfast or Lunch. If you are heading to the pool in the morning then don't overdo it at the breakfast buffet. It's 'eat as much as you want', not 'as much as you can'. If you do want to get your money's worth on the all-inclusive buffets then stick to high protein, high value items like the meats. These won't bloat you so much as the bread and pastries, therefore preventing your body from bloating and losing any definition you might've gained in the previous weeks and months in the gym.
Have a Quick Exercise Before Stepping Out. Most people would mock you for doing this but not me! If you are just about to head out to the pool or beach and bare your body for the first time then why not give your muscles a little wakeup workout? Do a few press-ups or sit-ups or whatever you can manage in your hotel room. Yes that's right, I'm not talking about doing a full-on workout at the gym, just enough to get your blood flowing and your muscles looking full again. If you happen to have a resistance band in your luggage then all the better. Taking some travel exercise equipment with you can make sure you get in regular workouts while away and avoid coming home in worse shape than when you left.
Maintain a Good Posture. There is no point working hard to get a flat stomach and sculpted shoulders only for you to walk around like a sad sack with your head down and your back hunched forward. Stand up tall and pull your shoulders down and back. Don't overdo it and stick your chest right out (that goes to guys and girls!) and don't jut your arms out by your sides. Just keep it natural looking without slouching forward to make yourself look shorter, fatter and miserable!
Don't Forget the Sun Screen! Most people look better with a tan but don't rush it on the first few days and try to get tanned too quickly by sparing the sun screen. Take your time and you will be rewarded with an even tan that lasts. Not a rush job that leaves you looking like a lobster before peeling off to reveal you looking even more pale than before!
Pick the Right Swimsuit. Daniel Craig killed it with his tight swimming shorts as James Bond but that doesn't mean you have to go as tight as he did! Unless you are really actually surfing, avoid the lairy board shorts and go for some short shorts that are of a slim fit but aren't going to suffocate your junk. Ladies: wear what suits your figure best. If you're not beach-ready then try and all in one or a tankini otherwise, its bikini time!  Maybe it's time they made a tankini for men?
So there are my top five tips for looking your best while at the beach or by the pool. If you've got any more tips then leave a comment below or join the conversation on our Facebook page.