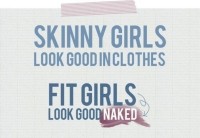 In the past the main debate when it came to what type of figure you preferred or wanted to poses came down to skinny vs. curvy.  Now things have changed and the new buzz on the fitness, health and fashion scenes is all to do with how toned is the new skinny.  Due to this lots of people now want to know how to tone your body and this article will help explain why you might want to do this and how you can go about it.
What Does Toned Mean?
To clarify things before we go on it is probably a good idea to define what toned actually means in terms of body composition.
According to Wikipedia "the term toned implies leanness in the body (low levels of body fat), noticeable muscle definition and shape, but not significant muscle size (bulk)."
In other words in order to have that toned look one should have low amounts of fat, a healthy amount of muscle all over their body or at least the areas they want to look toned without going overboard and building too much muscle mass.
Whereas skinny just refers to someone with low levels of body fat, a toned person will also have a firm figure that is not just skin and bone but also contains some muscle without it being visible (unless they are tensed).
Why Being Toned is Better Than Being Skinny or Thin
There are numerous advantages to being toned over skinny and they should help you fully understand why when it comes to skinny vs. toned, toned always wins.
When it comes to physical appearance a toned person and a skinny person who are both fully clothed might look similar to each other when standing side by side but once parts of the body start getting revealed, whether that be from wearing a t-shirt and shorts or skirt the difference will immediately become apparent. A toned person will not have those wobbly bits that a skinny person can have.  Even if you have lost a lot of fat and are now skinny it doesn't mean your body will be firm. On the contrary it is likely that the small amount of fat you still have will now be able to move freely as you walk or move around. Building up your muscle to get that toned look will ensure you have a firm and attractive body without losing any of your feminine shape.
Another advantage of being toned is that the more muscle your body has the more calories it burns on a daily basis. You can read our page on why weight training is the best way to lose fat to get more information on this but in a nutshell "increasing muscle mass will raise metabolism, as muscle has a higher calorific usage than fat".  This means that once you get toned and get rid of that excess fat it will be easier to keep it off as your body is burning more calories than before.
Last but not least is the fact that by working out more often and getting toned you will increase your fitness levels which in turn will have a positive impact on your stamina giving you more energy throughout the day. Getting a toned body will also increase your overall strength allow you to perform better at any sports you enjoy and completing any physical tasks that present themselves to you will become much easier.
What a Toned Body Isn't
When most people join the gym they are keen to let the gym instructors know that they don't want to get big and muscular or put on too much muscle. This is a real concern for most women and some men and it is completely understandable why you don't want this to happen. Well there is no need to worry in this case. Putting on lots of muscle isn't an easy thing to do and is not something that happens overnight or even over many months or years unless you are training specifically for that purpose. Working out to get toned and working to get muscular might use the same equipment and exercises in the gym but that is where the similarities end. The fact of the matter is that getting muscular is a tough goal to achieve and is not something that will happen to you while you are trying to get toned.
The big and bulky muscular look is not what a toned body is.
How to Get a Toned Body
Now that we know what being toned is and isn't it's time to discuss how to get a toned body. There is no easy way or shortcuts to getting a toned body I'm afraid. It takes time, effort and hard work but it is not an impossible task by any means no matter what your starting condition or body shape is.
The long and short of it is that you will have to start working out using weights or resistance machines. Your goal here is to build muscle which will tone and firm up your body. You need to exercise all parts of your body including your legs, arms, shoulders and stomach muscles. Working just one area of your body will lead to an unbalanced physique so don't just focus on one troublesome area you are not happy with like your bingo wings or thunder thighs. Cardio workouts can help to increase your fitness and burn off some calories but weight training should be your main focus in the gym or at home if that is where you work out. Getting a toned body while working out at home is more than achievable and can be done with just one piece of equipment.
Read our guide to kettlebell training for women to find out how easily you can get started.
Toning Myths
When it comes to understanding how to tone your body there are lots of myths and bad advice circulating about what you should and shouldn't do. The main offender is the idea of using a light weight and doing lots of repetitions or reps. This is a very popular piece of bad advice and you will have probably heard it even if you've never been to a gym. To get a toned figure you need to build muscle and in order to build muscle you need to train in the correct way.
To build muscle you need to break down your muscle fibers, effectively tearing them, after which they will rebuild themselves getting stronger and bigger increasing their tone, over the few days following your workout. Doing 50 reps with a 1 kg pink dumbbell isn't going to make that happen so step away from the brightly colored fun weights and start doing some exercises that actually challenge you and move you closer to meeting your objective. That is how to tone your body.
To get a step by step easy to follow workout head over to our Workout for Women who Want a Toned Body page.