If you're looking for the best suspension trainer of 2020, then you've come to the right place.
In previous years, there were only a few brands of suspension trainers to choose from. However, in 2018, it's safe to say that the market has exploded!
There are now countless new brands and models to choose from within this category of home exercise equipment. If you're short on time and just looking for the best suspension training set on the market today, then the TRX or Lifeline Jungle Gym XT straps are the premium products you can trust. However, thanks to the emergence of new brands like WOSS, Flymei, Kylin Sport, and GymStuff to name just a few, with a bit of research you can now pick up a quality set of suspension straps for a fraction of the price you would've paid last year. This guide to the best straps and trainers will help you choose the right product for your needs in 2017.
The Best Home Suspension Training Equipment 2017
If you've been keeping up with the latest fitness trends then you can't have helped but noticed the emergence of suspension trainers.  If this type of training is new to you then check out our suspension training guide to get an idea of why this type of training is taking off big time.
However, if you are ready to add this form of exercise to your home workout, this is our guide to the best suspension trainers you can buy today.
As the popularity of this type of fitness equipment increases more and more gyms are installing them but if you are not lucky enough to have access to a set of suspension straps don't worry, they can be purchased relatively cheaply and are perfect for use at home, office or even the garden. All you really need is a door or tree to attach them to and a bit of space and you can be working muscles you never knew you had in no time at all.
If you are already aware of the awesomeness of suspension training then click here to view the best selling item on amazon.com now.
Compare Suspension Trainers:
Use the trainer comparison table to quickly compare the features of the best selling options:

WOSS Military Strap Trainer
$
Excellent Value
Very Popular
4.8 out of 5 Stars
Most Popular
Lifeline Jungle Gym XT
$$
Durable
Great Value
High Quality
TRX Suspension Trainer
$$$
Professional Grade
Lots of Extras
Highly Durable
But before you go rushing off to find a set of straps have a quick read of our suspension trainer reviews:
The Best Suspension Trainers Reviewed
Here is the Home Workout Ideas lowdown on the best-selling and most popular suspension straps on the market at the moment. The good news is we will only be featuring the best suspension trainers here to save you sifting through the trash to find the gold. Let's begin…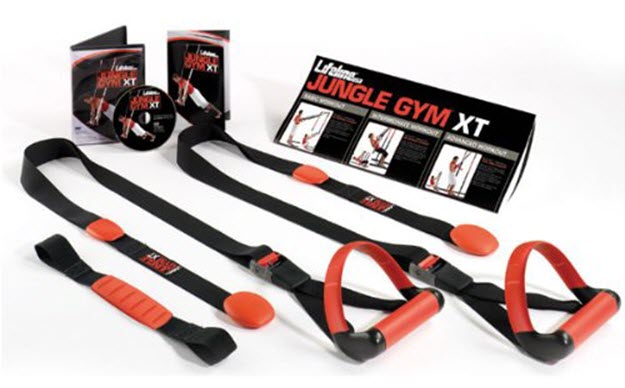 This product is more focused on just the suspension straps, although it does come with a handy instructional DVD to show you how to do the moves and exercises.  There is also a nice wall chart included.
The straps are really high quality with carbon fibre buckles which are really easy to use allowing you to adjust the length of the straps at the touch of a button. Being made from carbon fibre ensures they will last a very long time.
The handles have two sides which are designed to either accommodate your feet or your hands. Due to their soft texture you can put your feet in the handles without the need for shoes or trainers making this ideal for home or work workout where you might not have a pair of sports shoes handy: just slip off your work shoes and get a quick lunchtime workout in the office.
The anchor points which can be hung over the top of a closed door have been designed not to damage paintwork or door frames so you can use the Lifeline Jungle Gym XT with peace of mind knowing you won't be doing any damage while performing the various bodyweight exercises.
If you only plan to use this gear in one place or add it to a home or commercial gym then a purpose built wall Jungle Gym XT wall mount kit can be purchased separately to allow you to set the straps up without having to hang them over a door or other anchor point.
Jungle Gym XT Customer Reviews
Most of the people who have bought these suspension trainers and left a customer review on amazon.com claim it is the best suspension trainer out there and when you read their reviews it is hard not to agree. If you want to find out what people who have purchased the Jungle Gym XT have been saying click here now.  When it comes to the question of the Rip 60 vs Jungle Gym XT, a lot of people seem to favour the latter.
Summary
Overall this is a great set of suspension straps that are high quality and versatile allowing you to workout on the road or at home. They don't come with all the extras of the Rip 60 kit but if you don't want to follow a particular program and want a high quality set of straps then we recommend the Lifeline Jungle Gym XT suspension strap.
Buy the Jungle Gym XT now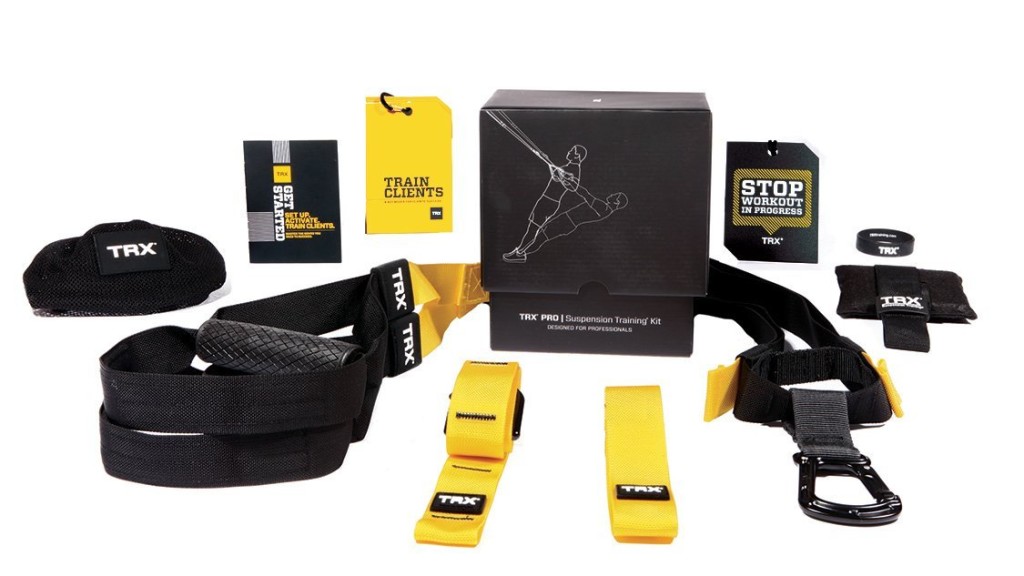 TRX are probably the biggest name in the suspension training equipment sector and this is their flagship product. When you get your hands on the TRX Pro suspension trainer you know you have a high quality product in your hands.
The yellow and black color scheme gives it a mean looking appearance and the build quality of the buckles, straps and cradles are very high. This is a professional piece of weight training equipment that would be not look out of place in a commercial gym.
The TRX trainer comes with a small bag that the entire kit fits into that you can take out and about with you. Having the freedom to do you workouts outdoors cannot be overstated and if you can find anything to hook your trainer onto then you are good to go. We tried it with a tree and a mesh fence and both worked perfectly. Due to its small size when folded up this suspension trainer is perfect for taking on holidays with you and using in your hotel room.
What's in the Box?
TRX have been kind enough to include a DVD which contains a 25 workout program on. This isn't as comprehensive as the Rip 60 set of DVDs but is enough for you to get a good workout from.  There is also a chart showing the top bodyweight leverage exercises you can perform with these straps. There is also the aforementioned bag which allows you to discretely and easily carry the TRX trainer with you outdoors.
TRX Suspension Trainer Customer Reviews
Lots of happy customers have left positive reviews on amazon.com with it having a 4 star rating from over 120 reviews. Most people gave it 5 out of 5 although there are a few 1 star reviews you should probably have a look at before handing over your hard earned cash. However, to this day, the TRX remains one of the best suspension trainers money can buy.
Read Customer Reviews
Summary
This is a great product that oozes high quality but for that extra level of detail you to pay a lot more than the other suspension straps on the market. If you want a set of straps for your commercial gym then we'd recommend these and if you want the best no matter what the cost then look no further than the TRX but if you are on a budget then the Jungle Gym XT offers much better value.
Many people still ask which is the better set: Jungle Gym vs TRX but at the end of the day it comes down to budget, how you plan to use the straps and what your goals are. However, the TRX straps seem to be the most popular trainer around.
Buy the TRX Suspension Trainer Basic Kit now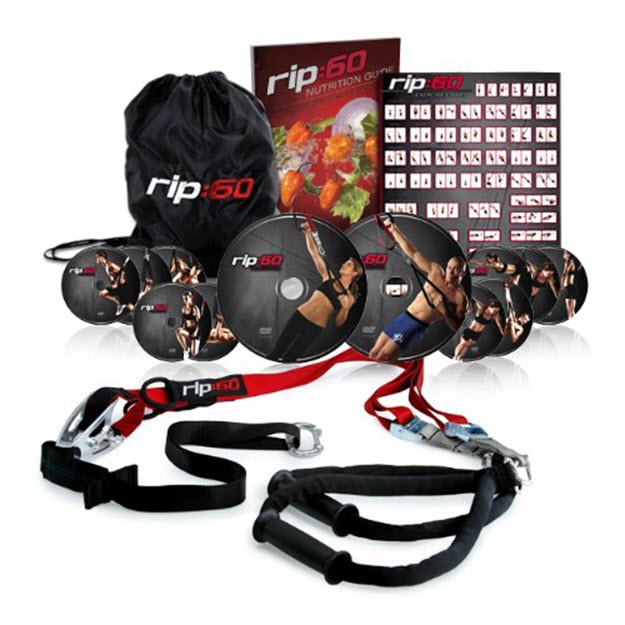 This is much more than just a set of suspension trainers. This pack comes with a set of eight workout DVDs and four bonus DVDs that deliver a workout programme that will get you ripped in 60 days using just the included suspension straps and body weight exercises.
If you just want to work out from home and don't want to buy any additional weight training equipment then this pack has everything you need to get started. The fitness program increases in intensity each week and has titles like: 'Wake Up Your Body', 'Hyper Burn', 'Built It Up' and 'Power and Strength'.
The bonus DVDs offer extra programs from guest instructor like Georges St. Pierre who delivers an MMA cage fighter's workout while Jillian Michaels delivers a fat loss program to get you ripped and in shape in no time.
But if you are not interested in the videos and just want to add some bodyweight leverage exercises to your bodybuilding routine then this is still a good value options and the suspension straps are high quality and come with a travel bag for easy use on the road.
To get the full details of this trainer, read our Rip 60 review by
clicking here
now
Rip 60 Customer Reviews
Due to the great value of this product it has been pretty popular and there have been a number of customer reviews left for this it on amazon.com and the majority of them have been very positive.Overall the product has a customer rating of 4.2 out of 5 which is pretty darn good with most people giving it 5 out of 5 claiming it is the best suspension trainer on the market.
To find out what people who have purchased the Rip 60 Suspension trainer set have been saying click here  to read the customer reviews on amazon.com. Many people are asking which is the best product out there: RIP 60 vs TRX and the answer really comes down to which one you prefer and what your budget is.  The TRX is certainly more popular and used in more gyms than the 60.
Read Customer Reviews
Summary
If you want a fully fledged weight loss and muscle building program to follow at home along with a set of suspension trainers then the Rip 60 is probably your best bet. The straps might not be as excellent as some of the others on the market but they will do and when you consider all the other stuff that comes in this pack then they offer great value.  If you don't want to follow a prescribed program though we suggest you carry on reading.
Buy the Rip 60 now
Gold's Gym Suspended Body Weight Trainer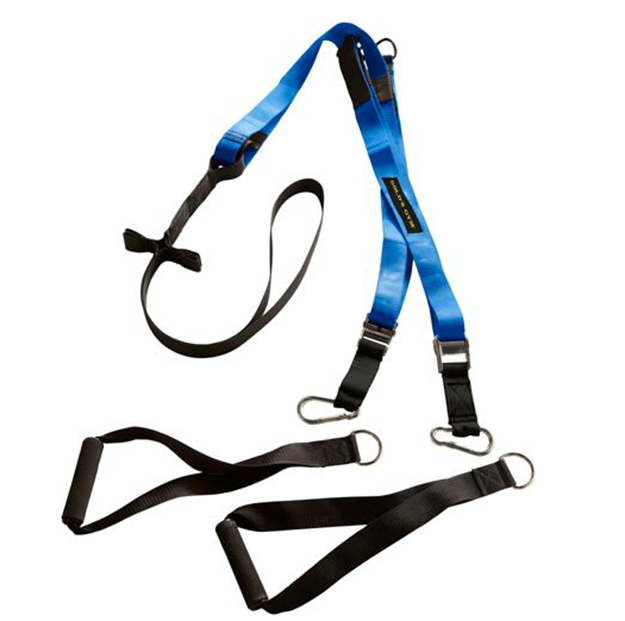 This body weight trainer from the Gold's Gym fitness equipment division was a big hit with home trainers, as well as those tasked with stocking commercial gyms with suspension training gear. However, the product has now been discontinued and is not available for purchase online. You might still be lucky enough to find it for sale in some stores, but for the most past, getting hold of a brand new Gold's Gym Suspended Body Weight Trainer isn't a realistic goal.
Thankfully, there are plenty of other pieces of home workout equipment out there that allow you to train in the same way. You can find great alternatives to this one on this very webpage or by heading over to best-selling suspension straps page on amazon.com where you will find something to suit all budgets and personal requirements.
It's a shame this trainer from the legendary Gold's Gym isn't widely available anymore, as it was a great piece of kit in its day. If you are lucky enough to find a store selling them, with some back stock left, then please get in touch and let us know where they are located and we will share that info with our readers. However, if you don't manage to track one down, you can console yourself, safe in the knowledge that doing a comparison of the LifelineUSA XT Jungle Gym vs. the TRX Basic Package will result in a more than adequate replacement.
View the Best Selling Bodyweight Trainers
The Best Suspension Trainer: Our Verdict
When it comes to picking the best suspension trainer it comes down to the Lifeline Jungle Gym XT vs the TRX Suspension Trainer Professional.  There are lots of other products on the market but none as widely regarded as these two.
The Rip 60 offers a good alternative if you want a full on exercise regime to follow but if are just interested in the straps then it's a face-off between the Jungle Gym and the TRX.  Both have received suspension trainer reviews from happy customers showing that people who have handed over their hard-earned cash are eager to recommend their purchase.
Main Differences
The main difference between these two products is that the TRX straps are attached to each other while the Jungle Gym's can be separated. This isn't such an important point, but it does mean two people can use the Jungle Gym at the same time while performing one-armed movements. Whether this is important to you we don't know but we feel it should be mentioned.
If money is no object then we'd say go with the TRX as they are tried and tested and used all around the world but if you don't want to pay more than $100 the Jungle Gym XT is perfectly adequate and more than up to the task.  It's definitely the best suspension trainer under $100. We hope you have found our suspension equipment reviews helpful.
Read our guide to suspension training