Hey! Today we are taking a detailed look at the Rip: 60 Home Gym Suspension Trainer, a popular piece of home workout equipment that is also found in many commercial gyms.
First up in this review, we will be starting off with a quick overview of the product and providing a useful description, as well as finding out exactly what it's for, and who the target market is.
Then we will be taking a look at how it can be used, and in what ways, and by whom. Next we will explore the accessories that come bundled with this home training system, before comparing it to some of the other suspension trainers on the market.
Lastly we will finish off by looking at the pros and cons of the Rip 60 trainer, to help you decide if this is the right one for you and your goals.
So if you are looking to start adding this type of training to your home workouts, or just want to know more about this product, keep reading for our in-depth review of the Rip: 60 suspension trainer.
Get the RIP 60 Suspension Trainer Now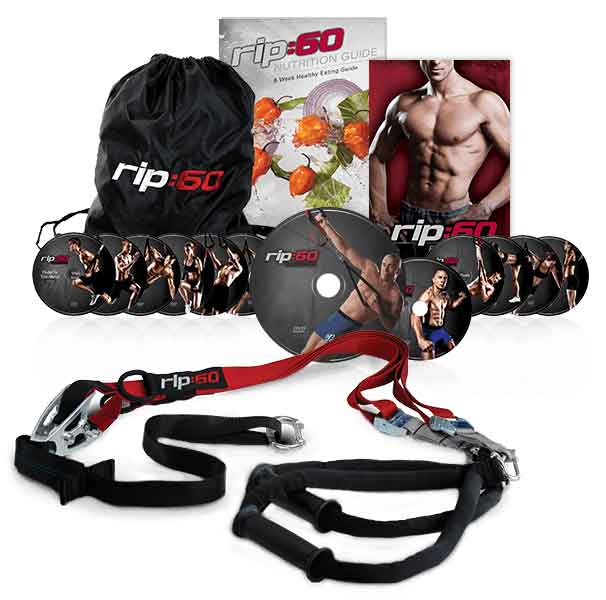 What is the Rip 60 Home Gym Suspension Trainer?
The Rip: 60 Home Gym Suspension Trainer makes use of suspended rotation training. This type of training forces your body to stabilize and balance throughout your workout for maximum muscle activation.
This approach to training can take regular exercises, such as sit-ups, crunches, press-ups and turn them into even more powerful moves that can deliver great results, without making your home workouts any longer in duration.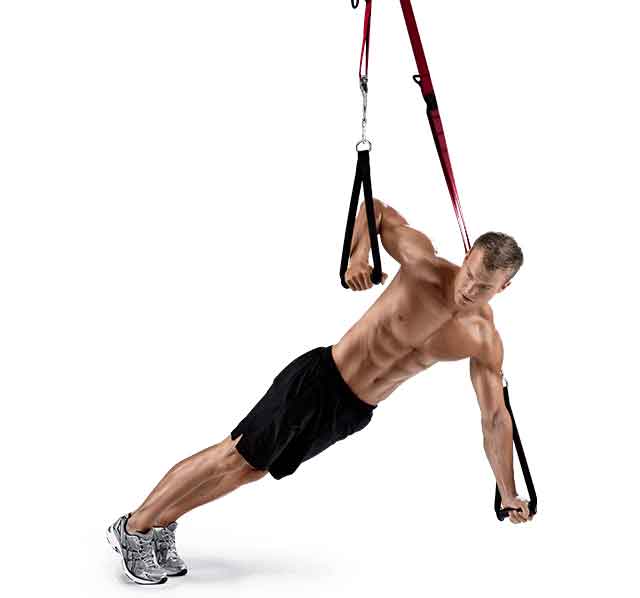 Uses For the RIP: 60
The RIP 60 Trainer set utilizes the principle of suspended rotation so your body is forced to stabilize and balance throughout every move. The exercises that can be performed with this trainer system are a mixture of cardio and resistance training.
As those two different types of training are combined together in a workout, it makes this product ideal for those seeking weight loss, as well as those aiming to strengthen their muscles. In addition to these two benefits of this type of training, suspension training is also ideal for improving your flexibility, power and endurance.
This particular training system tones biceps and triceps and works on chest, back and ab muscles. It is good for toning the body in addition to weight loss. Each workout offers a beginner, intermediate and advanced position so you can work out in the Optimization Zone for maximum results.
As you can see, whatever your goals are, with a little imagination, these suspension straps can be deployed to help you get to where you want to be in terms of physique and physical fitness.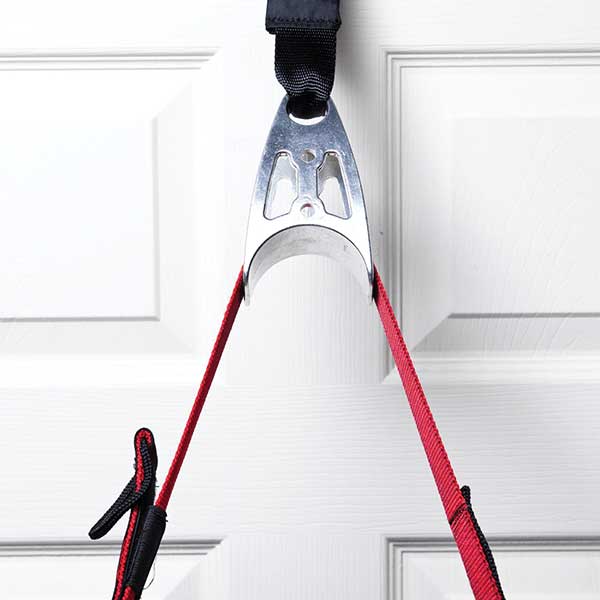 Rip: 60 Product Accessories
This training system comes with an array of accessories which aid those using this product. In the box you will find 8 workout DVDs, rip:60 for Runners DVD, rip: 60 nylon carrying bag, Jilian Michaels Fat Shredding DVD, Georges St. Pierre Lean Muscle DVD, rip: 60 power yoga workout DVD and a 60 day nutrition guide.
If you want more than just a piece of exercise equipment and want something that will provide all the instruction, motivation, and home workout ideas you need to achieve your health and fitness goals then this might be the one for you.
While some other trainers, such as the TRX straps for sale might get more love from commercial gym owners and hardcore exercise addicts, they aren't always the best choice for those starting out or returning to exercise after a long break.
Also, if you aren't using a gym or hiring a personal trainer, then having some instructional DVDs to guide you can be hugely beneficial. While suspension training isn't difficult once you know how, getting started can take some practice.
The eight DVDs that come with this product make it ideal for those who are new to this type of training, as well as those who like to have a program to follow when working out at home.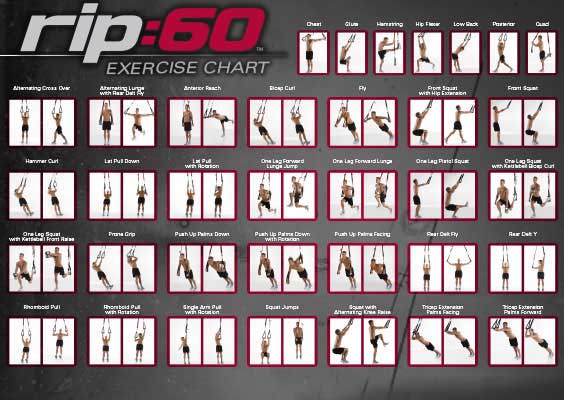 Customer Reviews and Pricing
The product rating given to the rip: 60 Home Gym Suspension Trainer by 45 customers on Amazon is 4.5 stars out of 5 – 29 customers have given it a five star rating while 9 customers have given it a four star rating.  This is pretty impressive and anyone who regularly scans the customer reviews knows how rare a solid five out of five is, so getting 4.5 is very respectable.
The product price given on Amazon is $71.58 while the original retail price was $199.99. This is a massive saving that is often only available online, and from Amazon.com. When considering the price of this product, it's important to remember the accessories that come with it, especially the training DVDs, which help set it apart from the competition.
The full price before discount makes this a premium product, at the top end of the market, alongside the TRX and Jungle Gym XT straps. So when you take the discounted price into consideration, it's an even better deal.
View the Customer Reviews of this Suspension Trainer
Other Suspension Straps on the Market
The main product competing with the rip 60: suspension trainer is the TRX system. The trainers from TRX are the industry leaders and are installed in many commercial gyms across the country, and even around the world.
They are great products, there is no denying it, but they are expensive and they don't come with as many great DVDs as this one, so bear that in mind when making a decision.
Also, it's worth pointing out that from the customer reviews, many people who bought this product favourable compare with the TRX straps and are happy to recommend it over the more expensive TRX kits.
If you want to find out what the best suspension trainer on the market is, checkout our guide to the best suspension straps.
Pros of the RIP: 60 System
Judging from the customer comments for this product, most of those who bought this product have been pleased with all aspects of their purchase. This includes the product delivery, the product packaging, the assembly of the product, and the wide array of accessories which come with this home training system.
Customers also felt that this product was good value for money, and allowed with to do a large number of varied exercises in order to keep fit. It was also noted that it is also comparable with some of the top of the range products in the suspension training market. Overall, this product has received a positive overall rating of 4.5 stars out of 5, from happy customers.
The price of this product, and the deep discount offered by Amazon.com was one of the key features that was highlighted by happy customers. The fact that this trainer from rip:60 is less than half the price of the TRX straps, while still offering the same benefits, plus a few extras, was mentioned by a number of customers.
This product was considered light and portable enough to be carried around the house, office, gym and park. Although some customers felt that this product was slightly heavier than the TRX Home Suspension Training system. However, being portable was one of the most favoured features of this product. Furthermore, the fact that a lot of customers felt that this product gave them a gym or professional style workout, without leaving their home earned it lots of high-star feedback
Customers also liked the fact that this home training system had easy to understand instructions covering how to set it up and get started. Furthermore, the instructions combined with an array of workout DVDs provided them with a complete workout package.
Cons of the RIP:60
There are a small number of cons or drawbacks for this particular set of suspension training equipment which are going to be listed in this sub-section.
Two or three customers stated that when this trainer system arrived home it seemed to give of a strange odour and had to be aired. The second set of complaints was mainly about the strange size of the handles on their particular order. This was in addition to the metal attachment and the pulley not being the appropriate size. However these appear to be anomalies amongst the people who have purchased this piece of home workout gear.
There were a few complaints about how the door anchor could have been better as well. Additionally there were a few mentions of how the adjustments of the straps were often a little awkward to carry out.
Summary of the Rip:60 Straps Set Review
This particular home suspension training system has a high rating from those who have used and purchased it. It's also widely considered to be on a par or comparable with a number of the top of the line products such as TRX Home Suspension Training system, despite costing less than half the price (while stocks last).
The fact that the Rip:60 trainer is constructed from quality materials helps it compete with the top of the range products of this type, making it a highly recommended piece of home exercise equipment for those who want to get in great shape and improve their fitness.
As well as the core product, the included accessories and extras, such as the eight DVDs help this one stand out from the crowd, offering something different from the rest.
Overall, these straps are widely thought of as being able to provide a professional and gym-like experience for people in the comfort of their home. If you want your home exercise gear to come with some instructional materials to help you get started and keep you on the right track then you can't beat the Rip 60 home gym suspension straps.
Click to Get the Latest Pricing Information or Add to your Cart Now