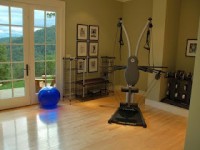 If you want to start doing cardio training at home in order to help you meet your goals of improving your fitness levels, losing weight or just generally increasing your vitality then getting a piece of home cardio equipment should be at the top of your list.
If you've used any of the cardio machines in a gym such as the treadmill, the elliptical trainer or the stationary bike then you might have assumed that it would cost a large amount of money to get a piece of equipment of this type for your home. The reason you might have made this assumption is that the fitness equipment in the gym is for commercial use and is therefore more robust and kitted out with all kinds of features and settings to suit every type or trainer and their specific needs.
The good news is that buying a piece of home cardio equipment needn't be an expensive ordeal and if you are prepared to shop around and reduce your expectations a little you can get a great piece of home gym equipment at a low price.
Why Do Cardio at Home?
Before you decide to hand over your hard earned cash for something like this you should be clear on exactly why you want to do cardio exercises at home. There are loads of great reasons to do so though so if you have the space and the budget then getting one of these machines can really increase the amount of time you have available to train as you care no longer constrained by the opening hours of the gym or the weather outside being suitable. Some reasons for choosing to workout at home include:
Being able to train at any time of the day or night whenever you choose
Not having to join a gym and pay expensive membership fees or travel back and forth each time you want to train
Make it easy for the whole family to improve their fitness or lose weight by providing them with an exercise machine
Do something else at the same time as exercising such as watching TV, reading or even some work at your desk!
The above are just some of the great reasons as to why you might want to start doing cardio training at home as opposed to the gym.  But now the question is what type of home exercise equipment should you go for and how much will it cost?
The Best Home Fitness Equipment
As I mentioned earlier in this article the cardio machines you might be familiar with from the gym are of a commercial standard and are designed to be used non-stop for many years by all types of people of different abilities and sizes.
You probably don't have the budget or the space at home to install a full sized commercial treadmill and there is no need for you to do so as your goals can still be achieved on a more modest piece of equipment.
If you must do running training then the budget treadmills won't be as good as the commercial versions but they are still worth looking into but if you really want the best value for money home fitness equipment then you should consider getting a small or folding exercise bike.  The reasons you should consider getting a folding stationary bicycle is that they offer the best combination of low cost, high quality and minimal space requirements.
The Advantages of Folding Exercise Bikes
So if you really want a piece of home exercise equipment that is easy to store away when not in use and won't take up half of your living room when you are using it then you should definitely consider a folding exercise bicycle.  If you are on a budget they are great because they can be purchased for as little as $130 for a well-regarded model with lots of positive customer reviews such as the Confidence Fitness Space Saving X Bike which is great for endurance training and fat burning steady state cardio sessions. As these compact exercise bikes are easy to setup and move around they are great for those who want to vary the places they do their cardio such as in front of the TV, looking out the window or even out in the garden when the weather is nice. They don't require any power from the mains so you don't have to worry about trailing leads and bearing near to a power outlet to do a workout. There are a number of options to choose from such as the aforementioned Confidence Fitness Space Saving X Bike to the quirky but ingenious FitDesk X Compact Pedal Desk which actually has a stand to hold your laptop allowing you to workout while working or playing games on your computer!
Other Convenient Home Cardio Solutions
If a folding exercise bike doesn't appeal to you then you might want to consider a non-folding compact exercise bike but if cycling really isn't your thing then there are still lots of great budget options to choose from.
Budget Rowing Machines for Home Cardio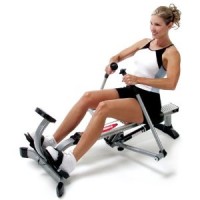 While these budget rowers can be just as affordable as the foldable exercise bikes they do take up rather a lot more space but if you feel you would prefer to row and would be more likely to use this type of equipment, then taking up a bit more space is a worthwhile sacrifice. Rowing is not only a great way to get fit and burn calories but it can also be an excellent way to tone your upper body and tighten up any lose bits such as you upper arms and back.
You can view the best-selling home rowing machines by clicking here now.
Mini Steppers for Home Cardio on a Budget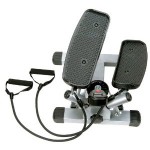 These devices take up even less space than the folding stationary bikes but are a little harder to use and require quite a bit of stamina to master. But these are good things as it means you are getting a great workout that can really help to tone your upper legs as well as burn those unwanted calories.  They are also probably the cheapest option so along with taking up the least space they also cost the least.
For the most popular mini steppers click here now.
Home Elliptical Trainers for a Real Workout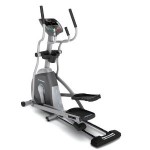 A home elliptical trainer at a price that will suit most budgets is never going to be a good as the commercial grade elliptical trainers you will find at a gym but for a reasonable price you can still get a good value product that will suit those who don't like running, cycling or rowing but still want to get fit without overusing their joints. Something like the Horizon Fitness EX-59 Elliptical Trainer doesn't cost the Earth and gets good reviews from happy customers and is definitely worth a look if you feel that one of these machines will get more use from you than the other types of home cardio equipment.
There are some very cheap elliptical trainers on the best-seller list which you can view here.
 Home Vibration Platform Machines for Something Different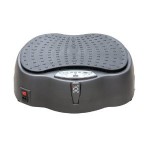 If you want to try something different at home and get in shape without expending too much effort then you might want to give these home vibration platform machines a try. They aren't that cheap and do take up quite a bit of space and aren't easy to move around although there are mini versions available such as the very affordable Mini Crazy Fit Whole Body Massager for those with space concerns.
There are lots of different types of vibration trainers to choose from which you can see here.
The Best Home Cardio Equipment for You
As you can see there are lots of options available when it comes to choosing a piece of home cardio equipment and they all have their pros and their cons but at the end of the day the best machine will be the one that you will use the most.
There is no point getting the most expensive treadmill if you aren't going to use it and would've been better off with a $100 mini exercise bike you would've used a few times a week.
So when it comes to making your choice, be honest with yourself and pick one that is likely to get the most use rather than the one which looks the best and has the most positive customer reviews.
If you want to get in shape at home and don't have the space for any cardio machines then take a look at some of our other home training articles such as:
We hope you found this article helpful and if you have any questions please leave a comment below.