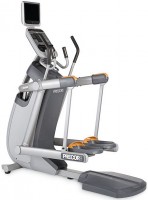 If you want to lose weight and get in great shape while training at home without the need for expensive cardio equipment or doing boring cardio exercises then this article is for you.
We will show you how you can burn more calories, save space and spend less money to get the look you want.  All by training smarter, not harder.
Weight Loss Myths
Lots of people assume that the best way to lose weight is to do lots and lots of cardio. While cardio training such as running, cycling, swimming or rowing does burn calories it is not the most effective way to get rid of that excess fat we all have and want to say goodbye to.
In fact, the best way to lose fat and get that lean athletic look is to focus on weight training which means lifting weights.  If you are planning on training at home then this is great news due to the fact that weight training equipment takes up a whole lot less space than an exercise bike or treadmill.
This means you can now start working out at home in a way that will help you shift those stubborn areas of fat you want to get rid of in order to get the look you want. Something like this very popular but affordable WOSS suspension trainer could be just what you need.
Another advantage to this type of training over doing cardio at home is that basic weight training equipment also costs a lot less than the equipment you would need for a home cardio workout.
So not only will you be burning more calories but you will be saving space and money. Convinced yet?
How Does Weight Training Burn More Calories than Cardio Exercises?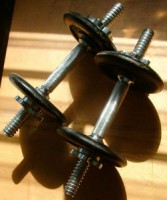 A vigorous workout with weights burns almost as many calories as a cardio workout but one of the two main benefits of training with weights is that during the hour or two after your training session your body has a metabolic spike which means that your body continues to burn calories at an accelerated rate even if you have finished working out and are sitting down relaxing. Your body burns these extra calories in a bid to help your muscles recover from the weight lifting exercises you have just performed.
The other main benefit from weight training over cardio training is that as the amount of lean mass or muscle your body has increases so too does the amount of calories your body burns during the day. The amount of calories your body uses in a day is known as your Basal Metabolic Rate (BMR) and is the     amount of energy your body expends to keep your body's vital organs ticking over such as your brain, heart, lungs and other essential bits and pieces. Any other activities you do during the day also burn calories on top of this amount. Common BMRs for adults can range between 1500 and 2500 calories per day. But if you are weight training and increasing the amount of lean mass on your body then this number will go up and even on a day when you don't do any exercise at all your body will use up more calories then when you didn't have the muscle mass.
How Much Muscle Do I Need to Increase My BMR?
Now the thought of adding this extra lean mass or muscle to your body might sound like hard work and if you want to really bulk up and get big then I'm afraid it will be a hard task you are faced with.
However if you just want to add some muscle to get that toned look and burn more calories by weight training than from doing cardio then it's not so hard. You will still have to train seriously and regularly as you would do if you were doing cardio training as the payoff is great and the benefits longer lasting then it shouldn't be hard to keep motivated.
By adding just three pounds of muscle your body will burn an extra 120 calories a day.
Don't Worry About Gaining Too Much Muscle
Some of you reading this might be thinking "but I only want to lose weight, I don't want to gain muscle". If you are thinking this the reason if probably that you don't want to get too big and bulky or get the look of a bodybuilder.
Well the good news is there is no need to worry about that happening. Building muscle is a slow process which becomes quite difficult once you have passed through the initial period where you might easily gain a few pounds of muscle when you first start training with weights.  There is no chance you will wake up one day and realise you have become the Incredible Hulk by accident.
Getting big takes a lot of time and work and is not something that happens by mistake!
Why Loosing Fat and Not Building Muscle is a Bad Idea
If you went down the route of only doing cardio training to meet your goals of losing weight you would eventually meet your targets and lose the pounds you had been desperately trying to get rid of. Sure it might take you longer than if you trained with weights but you should get there in the end. The problem is that if you lose fat and don't add muscle to your body then you won't get that healthy, athletic, toned look people with attractive bodies people have. Just losing the fat won't tighten you up and any wobbly bits will still be wobbly, just not as much so. You will also won't get the bonus of increasing the amount of calories that your body burns daily and will therefore but at much more risk of putting the weight back on. Also, gaining muscle also makes you stronger which can come in handy from time to time!
The Best Way to Lose Weight Training at Home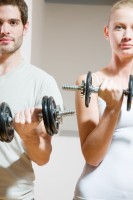 Although the information in this article can be applied to people training in a gym the main purpose of this piece was to show you that even if you want to train at home and your goal is to get in great shape then you can do so without the need to do cardio at home.
Doing home cardio workouts can be expensive due to the need for large equipment such as stationary bikes or elliptical trainers which also require a lot of space.
You can easily start building muscles at home with just one or two pieces of equipment such as a pair of dumbbells or a kettlebell. Even if you are travelling on the road you can get a good workout in using a portable training device such as the very effective suspension trainers.
As you can see weight training is the best way to not only lose fat but also get a great athletic, healthy, toned body whether you are training at home or in the gym. If you are now convinced this is the way forward take a look at some of our other articles to help you get started:
If you found this article useful don't forget to share it with your friends by clicking on the links below: