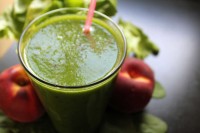 As I mentioned yesterday, I'm trying to form a new healthy habit in 2016.
I'm aiming for one homemade vegetable juice a day, with the goal of improving my overall health and wellbeing.
Today was pretty busy, but I'm pleased to say I managed to squeeze in a green juice before the day was out.
Unfortunately, it wasn't until I got home from my workout at the gym at around 10 pm or 2200.
Now that I've sunk the pint of green stuff, I'm left wondering whether it was a good idea to consume that much liquid vegetable before bed. I know more by the morning and report back.
I'm guessing there will be a few trips to the bathroom during the night and perhaps a bit of bloating. Fun times.
The Best Post-Workout Juice Recipe?
This probably isn't the best post-workout juice recipe out there. The lack of protein is enough to make it less than effective at muscle repair and growth.
However, the worst part was the extra ingredient I added. It was a bad idea and gave the juice pungent aroma and sickly taste. I still drank the juice, though. A habit is a habit after all.
So here is my post-workout juice recipe, just don't try this at home:
2 apples
4 carrots
1 bunch of kale
1 handful of spinach
1 knob of ginger
1 whole leek
In case you can't tell, the final ingredient – the leek – was responsible for turning an otherwise refreshing drink into a disgusting potion.
Lesson learned. Don't #juice with leeks. #fitspo
Click To Tweet
Back in the Gym after the Holiday Break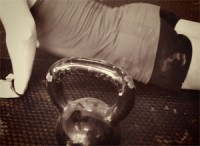 I also managed to get in a good workout at the gym. My first session of 2016. Although the gym was busy with new recruits,
Although the gym was busy with new recruits, the suspension straps and most of the heavy kettlebells were free so I did some free weight and body weight exercises, before a 20-minute walk on the treadmill.
For the most part, I eased back into training. My home workouts have been a bit lacklustre during the holidays, so I didn't want to push it in the first day back.
Overall, I worked my chest, shoulders, and triceps, and left it at that.
Now the weather has gotten colder and wetter, I'm toying with the idea of picking up some form of home cardio machine, but not sure which yet. Any suggestions?
Stick with the Blender for Post Workout Shakes
As well as my daily juice habit, I've managed to fit in a blended drink every day so far this year.
Admittedly, it's much easier to find the time and enthusiasm for a blended drink than a vegetable juice. Not only do they generally taste nicer due to the more varied ingredients you can use, but the clean up job is a fraction of the time.
How Long Does it Take to Clean a Juicer?
When I was looking into buying a juicer, many people said their main downside with the hassle of cleaning them after making a juice. This nearly put me off to be honest.
However, after doing a bit of research, I picked one that was reportedly easier to clean than some of the other products on the market. Mine isn't the most expensive juicer out there, but it's reportedly the best juicer under $200.
When it comes to the question of how long does it take to clean a juicer? After timing myself, I can get the job done in 10 minutes flat. This is from getting the juicer out of the cupboard, the fruit and vegetables into place, and then cleaning it all up afterwards.
Depending on how nice the juice is – or in some cases isn't – drinking it can take a lot longer!
Final Thoughts of the Day
So today, I've learned a few things:
The gym will also be at its most busy during January
Probably not a good idea to drink a pint of green juice before bed
Juicing isn't great for making a post workout drink
A blender is perfect for an exercise recovery smoothie
Onwards and upwards for tomorrow!
Did you stick to your new year habits today? Are you juicing, and if so, what recipes are you enjoying? Please share your thoughts in the comments below.