Right! Its a new month so its time to set some goals. This is a new addition to the site where I will be posting up my goals for the forthcoming month in order to inspire me and maybe some of you too!
My Goals for November 2012
My health and fitness goals for this month are pretty simple.  They are as follows:
Go to the gym eight times
Do 10 home workouts on my exercise bike
Work on my one handed push ups
Loose 1kg of body weight
Eat zero Magnum ice creams
Nothing too ambitious there I'm sure you will agree. I plan to visit the gym each weekend day for a weights and cardio workout. There are four weekends this month so I will go eight days. I can't really make the gym during the week due to other commitments so I plan to workout at home at least 10 times by using my exercise bike.  I will try to do more then 10 sessions on the bike but I don't want to be too unrealistic with my goals. Doing cardio at home is pretty easy to do as you are already at home! But it can be easy to skip as you can put it off for later that day or tomorrow.  I've started playing the PS3 while riding on the home exercise bike which makes the time really fly.
How to Do a One Handed Push Up?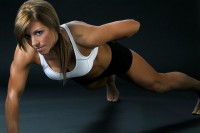 I saw a cool set of videos on another website recently, covering how to do one armed push ups and how to work your way up to being able to do them. I can do about 30 regular push ups but wouldn't mind being able to do a few one handed ones too. I'm going to give it a serious go this month and hope to be able to do at least a few by Christmas. Can you do them?
Lose 1kg of Body Weight
This one is pretty self-explanatory. Hopefully my sensible eating and workouts this month will result in me losing 1kg or 2.2 pounds of weight which will be fat rather than muscle.  My main goal is really to lose inches off my waist and drop my body fat percentage levels rather than my weight going down on the scales but this target will do for now.
Eat Zero Magnum Ice Creams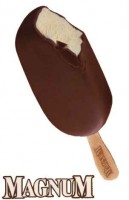 Man I love these ice creams! Over the past few months I've been slowly getting addicted to them where at one point last month I was having one a day. A Magnum Original contains 260 calories which is a lot when you start eating them on the regular.  I'm going zero tolerance on these for this month at least!  What naughty foods are you currently over-enjoying?
Read the Lean Ape Living ebook
I've been following the Lean Ape site for a while now and have picked up their ebook as I like the ethos behind the site and its interesting to watch the site grow as its a similar age to mine.  Now I've got the book I have to actually read it which I hope to do this month. I'll do a review of the Lean Ape Living book on this site when I'm done.  Read any good (fitness) books lately?
Over to You
If you have any goals for this month leave a comment below or add them to my Facebook status here.