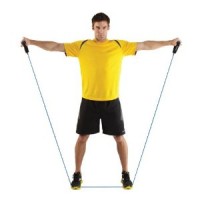 If you've got a holiday planned in the coming weeks or months, or are going to be away from home and on the road for a while, then something like a set of resistance bands or tubes should definitely be in your suitcase. There is nothing like a holiday to interrupt your workout routine and cause you to miss valuable workout sessions.  What makes matters worse is that holidays are often times of overindulgence when it comes to eating and the new and interesting foods on offer make it hard to stick to a clean and healthy diet.
All this can add up to an increase in your body fat levels as well as making it harder to get back into your training schedule upon your return.  If you are looking for a skinny fat solution a holiday isn't the place to find it!
Nothing Wrong with Having a Break from Training
While there is nothing wrong with having a break from training and your diet from time to time, if it happens too regularly it could really slow down your progress. I know from personal experience that when I'm away on holiday or off on a training course with work I tend to eat a lot more processed foods than usual.  Plus, I find it hard to get back into working out again when I get home.  Sometimes you will have access to a gym when you are on the road, but often than not, there won't be one to use, it might not be good enough or you just don't have the time to use it.
How to Train While Away from Home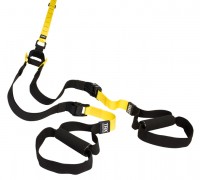 So if you won't have access to a gym that you can consistently use when away from home what should you do? One option is to take a set of suspensions straps like the Jungle Gym XT with you. These suspension trainers are pretty portable and often come with their own carry bag which reduces the size a lot. They are very versatile, allowing you to perform numerous exercises to help you meet your goals, whether they be toning up, losing weight or putting on some quality muscle.  You can easily connect them to a door in your hotel room and start doing some suspension exercises.  However, with prices starting at $99, they can be quite an expensive option, especially if you aren't that serious about getting in shape.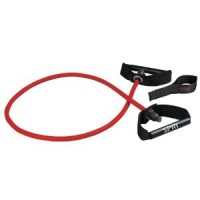 Another option is to get some resistance tubes or bands. These might look a bit similar to suspension straps as they have a handle on each end but they work in a different way. Think of them as a strong piece of elastic with handles on the end. By pulling on the handles, trying to stretch the band, you can give yourself a great workout with just one piece of equipment. They are lighter than suspension trainers like the TRX, making them easier to carry around with you. While they don't give you as many options as a set of suspension trainers, they cost a lot less and are great for trips when you need to travel light. For most of the resistance band exercises you can perform with them, you don't need to attach them to anything and simply stand on them for extra resistance. They are great for doing a quick workout in your room and you can perform muscle building and fat loss workouts to help you meet your goals.
Top tip: If you want to look your best by performing a quick hotel room workout before heading off to the hotel pool or beach, having a set of resistance tubes in your room is the answer.
Start your Budget Home Gym with Resistance Bands
Building your own home gym is a great idea, but for most people it's just not practical. There are space issues to be taken into consideration, as well as the cost involved. However, with just a few inexpensive pieces of equipment, like a set of resistance bands you can give yourself the ability to start working out at home.
Which Resistance Bands to Get?
There are quite a lot of different makes and types of resistance bands on the market which can make using one to buy a bit of a daunting prospect. If you look at the top best-selling exercise bands on amazon.com you can see there are many varieties to choose from.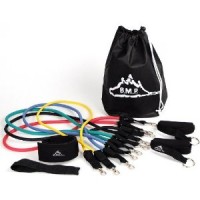 The number one best-seller, the Black Mountain Resistance Band Set costs more than some of the other products available but at $30, can still be considered cheap resistance bands, especially when compared to other home exercise equipment like barbells and kettlebells. The more elaborate set of bands come with a selection of handles, clips and different strength bands.  A set that keeps things simple, with just one band and two high quality handles attached, is the Reebok Resistance Tube which also doesn't cost too much either.  The Reebok resistance trainers are excellent for taking away with your on holiday as they are light, portable and take up very little space.
To take a look at the best-selling exercise bands on sale click here now.