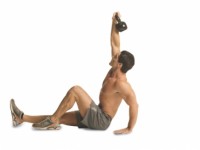 Kettlebell training is one of the best ways to exercise at home. By owning just one of these Russian weightlifting staples, you can transform your body from the comfort of your own home or backyard.
In this article, we will be taking a look at the best kettlebell sets available to help you kick start your home workouts.
Despite their appearance, these cannonball-with-a-handle free weights are not just for those who want to build muscle. Depending on the kettlebell exercise routine you choose to follow, you can achieve any number of health and fitness related goals.
To quickly view the Top 10 Best Selling Kettlebells click here now.
Some common achievements of those training with kettlebells include:
Improved muscle tone
Increased strength
Well-developed muscles
Fat loss
More stamina and explosive power
Increased metabolism
If you follow a muscle building exercise routine you can get great results by working out at home with just a kettlebell and the right diet. However, if muscle building isn't your desired outcome, simply follow another routine that is better suited to your goals.
For example, by following a circuit routine and taking shorter breaks between exercises you can burn calories, fire up your metabolism and start shedding fat. Not to mention the increase in fitness levels by following this type of kettlebell exercise routine. Training in this way is the perfect option for those who want to get fitter at home without having to purchase a treadmill or other expensive, space consuming piece of fitness equipment.
With just a kettlebell, the right exercise routine and a good diet you can achieve pretty much any goal in the realm of fitness and body transformation.
If you are ready to step up and start working out at home with kettlebells this ultimate guide to the best kettlebells was written just for you. Enjoy!
The Best Selling Kettlebell Sets on the Market Today
These are some of the most popular and best-selling kettlebell weights on the market right now. If you want to get your home gym off to a flying start, and get on the road to an improved physique as soon as possible, something from this shortlist is a safe bet.
Ideal for both men and women trainers, kettlebells are very versatile pieces of home fitness equipment. You can work every part and muscle group of your body as well as burn calories and drop fat with the right kettlebell workout routine.
Some of the reasons why this type of weight is so great for the home trainer is that they are low cost, take up very little space and having just one or two of them allows you to perform a large number of exercises to keep your training interesting and effective.  They can also be used without any other equipment such as a bench or rack.
Have a look at our kettlebell reviews to help you decide which is the right one for you and your fitness goals.  Leave a comment below to let us know which one you went for.
Solid Cast Iron Kettlebell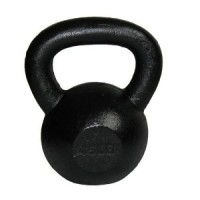 If you just want a single kettlebell and don't need the celebrity trainer DVDs and wall chart, then these solid cast iron weights are a good place to start. They are sold individually and are available in five weight classes: 10, 15, 20, 25 and 45 pounds and range in price from $12 to $40.50. These low prices are due to there being around 50% off each model on amazon.com at the moment. To take advantage of these low prices click here now. If you already know a bit about kettlebell training or are happy to follow the free routines and exercise plans on this website, then these are some no frills weights that should appeal to you.
The weights themselves are plain and devoid of any branding. The handle is textured to give you sufficient grip but that is about it, in terms of frills. If you want a great muscle building and cardio workout rolled into one without breaking the bank you need to get hold of these great value kettlebells today.
Our Verdict: If you want no frills fitness equipment at a great price without any extras then these are for you.
To choose the weight that is right for you and start kettlebell training at home click here now.
Body-Solid Individual Kettlebells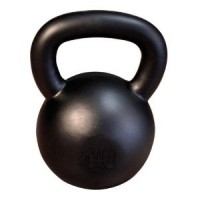 Another range of single kettlebells made from iron with a simple black finish. These are available in increments from 10 pounds which cost $13 right up to a whopping 75 pounds, priced at $100. These are nice to use as the enamel finish allows them to move in your hands when doing swinging movements without it ever felling like you are losing your grip on them. Accidently letting go of a kettlebell while mid-swing is every home trainers nightmare, but thankfully this happens very rarely if ever.
While the customer reviews are almost all positive, a couple of people found that the enamel coating is prone to chipping off in some situations.  To find out what people who purchased these single kettlebells thought of them click here now.
A lot of home trainers will find these weights useful as they increase in weight in smaller increments than most other kettlebells for sale individually. This makes them ideal for home trainers who are increasing in strength and don't want to attempt a 10 pound or more increase in weight. If you want to increase the weight you are training with at a slow and steady rate, then there should be something in the weight range here to help you progress.
Our Verdict: No nonsense kettlebells that go up in sensible increments from beginner to expert weight.
To see the range of weights available and get the latest pricing click here now.
Stamina 36-Pound Adjustable Kettle Versa-Bell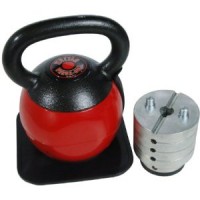 The best adjustable kettlebells allow you to increase or decrease the weight you are lifting. This is great as it saves you having to buy more than one kettlebell, which in turn saves you money and storage space: two of the most import considerations when starting working out at home.  The weight can be adjusted from 16 to 36 pounds in four pound increments. This is a good range and will allow you to perform numerous exercises with same kettlebell, targeting smaller and larger muscles with no problem. Even as you increase in strength you shouldn't need to upgrade this one for a long time if at all. By adjusting your routine accordingly, you should be able to keep increasing your strength and power as well as increasing muscle mass and definition.
The large handle means you can comfortably hold the weight with one or two hands. This again, increases the number of exercises you can safely perform with the Stamina adjustable kettlebell.
The design of this adjustable kettlebell sees the additional weight plates housed inside the kettlebell casing which gives it the appearance and feeling of a regular kettlebell. The well thought out design of the adjusting mechanism allows you to quickly and easily change the weight, by simply turning the pin. There is a holding pad for the weight plates that are not currently in use, keeping them safe and out of harm's way while you are working out.
Customer reviews point out that the Stamina adjustable kettlebells are well made and that it is easy to change the weight setting, claiming it can be done in five seconds. However, some customers were a bit disappointed by the sound the plates can make when performing exercises like the swing.
Our Verdict: If you want to increase the cost saving benefits of working out at home, then adjustable kettlebells are a great option and this is a great example of this type of home fitness equipment.
To see more pictures and get the full pricing and delivery options for these adjustable weights click here now.
Tone Fitness 5, 10 & 15 Pound Vinyl Cement Kettlebell Sets
With over 50% off the price, at the time of writing, it is easy to see why this set of vinyl coated, cement filled weights are the number one best-selling kettlebells on amazon.com.  The set comprises of three weights, weighing 5, 10 and 15 pounds each. An instruction manual and training DVD are included in the set. This is a great feature as if you've not used this type of fitness equipment before, as working out how to get the best out of them can be quite tricky without any help or previous experience.
Although theses weights aren't particularly heavy, it's nice to see three different sizes included in the set. The low cost, when compared to other weights, is mainly down to the fact that they are made using cement, rather than cast iron. Coated in durable plastic ensures they won't do too much damage when dropped but this mean they don't feel as nice or solid in your hands as the iron models.
If are you are new to resistance training or weight training and want a cost effective way to get started then this is a good option. Without wishing to sound sexist, it appears this set has been designed with women trainers in mind, judging by the promotional materials and appearance of the weights. However, men new to working out, who are comfortable in their manliness can get a great bargain here and start their body transformation for less than the price of one month's gym membership.
Our Verdict: Great for those new to working out but probably not a good long term investment.
To get the full details of this product and the latest pricing information click here now.
Kathy Smith's Kettlebell Solution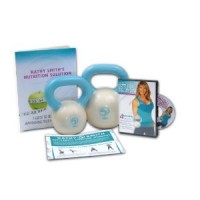 This is another beginner's kettlebell set that has everything that the home trainer might need to get started. Out of the box there is a three and a five pound kettlebell and an instructional wall chart as well as a fitness DVD by Kathy Smith. It is fair to say this set is for women new to the world of exercise and fitness or at least resistance training. The lightness of the weights means you are going to outgrow them pretty soon if you follow a good routine. Due to the very low cost they are a great way to see if kettlebell training is for you, but any more than that and you will need to upgrade fairly soon.
They have positive customer reviews on amazon.com which you can read here.
The included Kettlebell Solution Workout DVD covers everything you need to know to get started and is divided into four sections which each target a different part of the body and outcome: upper body, buns and thighs, core and fat burning.  If you follow this routine on a regular basis and have 30 minutes to spend on it three of four times a week, there is no reason you won't see an improvement in muscle tone and some fat loss. This is all dependent on you following a good diet though so don't expect miracles! The set does include Kathy's Nutrition Solution Guide to ensure you know what to eat and when in, order to reach your goals.
Our Verdict: Low cost but low weight, this set won't last you forever but is a great way for the beginner to try their hand at kettlebell training in the comfort of their own home.
To pick up these weights and start getting in shape at home click here now.
The Best Selling Kettlebells Online
The above list are some of the best ways to get into kettlebell training at home, picked from the list of the most popular kettlebells available online. If you want to see the current, full list of best sellers, click here now.
Once you've decided this type of training is for you, take a look at these home workout ideas for better kettlebell training:
We hope you found out Ultimate Guide to Kettlebells hopefully and are seriously thinking about incorporating this type of physical training into your home workout routine.