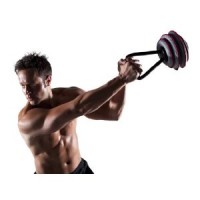 If you want to have a great workout with kettlebells but are worried about the damage swinging one of these Russian weights could do if it slipped out of your grasp, then you can stop worrying now. If you are also wondering 'do kettlebells work' then I'm pleased to report that they do indeed work. That is if your goals and objectives include any of the following: getting toned, gaining muscle, reducing your body fat content and increasing your strength. So with two pieces of good news for you already delivered so far this article I am now pleased to present to you the Rip 60 Soft Kettlebell.
The Rip 60 Adjustable Soft Kettlebell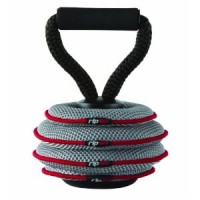 Not only is this weight made from soft padded material it is also an adjustable kettlebell. This means that you can increase or decrease the weight of the kettlebell. This is great as it allows you to perform a wide range of exercises at home with just one weight.  This prevents you from having to buy a large selection of fixed weights. Not only does this save you money, but it also prevents you from cluttering up your home with a load of weights.
When it comes to the Rip 60 Kettlebell, it can weigh between 2 and 20 lbs. This means that it can either be pretty light and ideal for isolation exercises like the tricep kickback, or it can be quite heavy, making it more suited to compound exercises. Not only are the weight rings of this adjustable kettlebell soft but the handle is too. This means that you are much less likely to injure yourself when performing tricky kettlebell exercises.
Although this type of weight is a great way for men and women to get in a great home workout, they can be quite intimidating when you first lay your eyes on one. This is mainly due to their size and the solidness of them! Using a padded kettlebell like this one from Rip 60 makes them less of a daunting prospect to get to grips with. It also reduces the chances of you getting a bruised wrist should the bell swing out of control.
If you are interested in this kettlebell from Rip 60 and would like to see the full specification and customer reviews click here now.
The Greatness of an Adjustable Kettlebell
Like a good pair of adjustable dumbbells, an adjustable kettlebell can really help you make progress with your home workout routine.  By being able to start off with a light weight, and then get familiar with the exercises you are trying to perform, you reduce the risk of injury and ensure that you are doing the exercise correctly before increasing the weight. This can help ensure you are using the correct form when performing some of the best kettlebell exercises as it is much easier to practice and get the movement right when the weight is lighter and under your control.
There are of course other adjustable kettlebells for sale apart from the Rip 60, and while they might not be as popular as the best-selling kettlebell, from Cap Barbell, they do allow you to change the weight from light to heavy with relative ease. This makes them longer lasting as you can keep the same set, even as your strength grows. Not to mention the money saving aspect.
Of all the adjustable kettlebells for sale, the Rip 60 Soft Kettlebells is a great option because not only can the weights be adjusted, but it is also padded to prevent injury and household destruction should a home kettlebell workout go wrong!