Kettlebells make a great addition to any home gym no matter whether you are just starting one or already have a fully functioning workout center in your house.  If you aren't entirely sure a kettlebell is for you then have a quick read of this article on why a kettlebell is all you need for a home gym but if you are ready to take your home training to the next level then read on as we will be taking a look at the best kettlebell sets for sale and serving up some extensive kettlebell reviews to help you decide which one is right for you and your goals whether you want to lose weight, get bigger and stronger or just look the best guy or girl on beach.
The Most Popular Kettlebell on the Market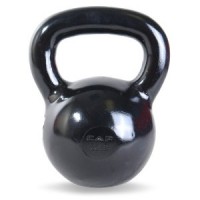 Choosing the most popular kettlebell for sale at mega-retailer amazon is a pretty good way to make sure you get the best product on the market in order to start home-training towards your fitness goals and when it comes to kettlebells on sale at amazon the Cap Barbell Kettlebell is the most well reviewed product on the market at the time of writing. It has 242 customer reviews with an average score of 4.4 out of 5 starts which translates to 8.8 out of 10 or an 88% approval rating, something any president would be extremely proud of!
Why is the Kettlebell from Cap Barbell so Popular?
If you look at the customer reviews of this kettlebell from Cap Barbell then you will start to see why it is so popular and one of the best kettlebells on the market. Most people who bought this product and then left a review on amazon gave it a highly favorable review and of the 242 reviews 151 gave it a full five stars. People who bought this piece of home gym equipment were generally pleased with the solid build quality, the professional service and the design of the product especially its wide handle which makes it very easy to use for a number of different exercises.
But not everyone was over the moon with their purchase, a few of the kettlebell reviews complained of receiving their product in a less than perfect state and this contributed to the Cap Kettlebell getting a few one star reviews against its name. But I am sure amazon's easy to use product returns department helped them out.
Another reason this product is so popular is that it is very competitively priced when compared to the other weights on the market and also comes in a large variety of different sizes ranging from 15 lbs. which is ideal for beginners or those with modest goals right up to 70 lbs. or 31 kg which should be heavy enough for most home trainers!
If you want to check out this popular item and read the customer reviews click here now.
The Most Versatile Kettlebell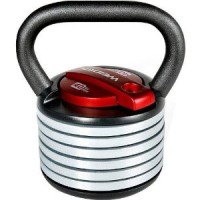 If you want to make sure your purchase will stand the test of time and keep challenging you for years to come or even get used by the whole family then you might want to consider getting an adjustable kettlebell. These are some of the best kettlebells available as the weights can be changed allowing you to perform even more exercises than you can with a regular fixed weight bell as well as ensuring you will always be getting stronger and fitter as your strength improves over time. The adjustable kettlebells cost more than the regular ones as you might expect and for this reason aren't as popular or as widely available. There are however a few good products on the market that get good customer reviews and won't break the bank.  The top three that you should check out and are as follows:
You can also buy a handle on its own to which you can add your existing weights (if they are the right type) which could save you some money: Kettlestack Adjustable Kettlebell Handle
So as you can see there are lots of good options on the market should you wish to get your home training off to a flying start. We hope you found these kettlebell reviews helpful and if you do decide to purchase one please get in touch on Facebook or Twitter and let us know which one you picked and if its as good as you hoped.
If you want some ideas on how to get started with kettlebell training at home then take a look at these articles