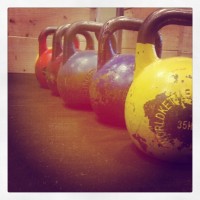 When it comes to picking the right kettlebell there are a few things you need to bear in mind in order to make the best choice. Kettlebell training is ideal for everyone no matter what your fitness levels are or what your goals are. Some important factors to consider when shopping for a kettlebell include:
What your level of experience is with resistance or weight training?
What your goals are and what do you want to get out of kettlebell training?
What your budget is and the amount of space you have to devote to your home gym?
Let's break these down one by one in order to help you assess your needs and requirements and choose the right set of 'bells.  If you want to jump straight to the reviews head over to the ultimate kettlebell guide page now.
How Strong or Experienced with Weight Training are You?
When it comes to knowing how to pick the right kettlebell for your needs a good place to start is ascertaining what your current strength levels are.
New to Strength and Weight Training
If you are completely new to resistance or weight training then a beginner's set of kettlebells is ideal for you. These beginner's kettlebell sets usually come with an instructional DVD or exercise chart which will have you working out in the correct way in no time at all. The weights that come as part of these sets are usually fairly light but will still give those new to resistance training a good workout, with great results available to those who stick to a good kettlebell routine.
Some good examples of this type of kettlebell set include the Tone Fitness 5, 10 & 15 Pound Vinyl Cement Kettlebell Set and the Kathy Smith's Kettlebell Solution pack.
Some Experience of Weight Training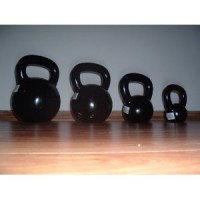 For those of you who are more experienced in weight training and would like to move onto kettlebell training then one or two heavier weights will get you started in no time. If your goals are to increase muscle mass, get stronger or improve your fitness levels, a 20 to 30 pound kettlebell should be enough to give you a good workout while you are still relatively inexperienced in using this type of weights.
If you have a good background in resistance training already then you should be able to make the transition to kettlebell training fairly quickly, although don't expect the amount you can lift by using dumbbells or barbells to translate to how heavy a kettlebell you can lift. Due to the way most kettlebell exercises are performed, and the very nature of the weights themselves, you cannot make easy comparisons between regular freeweight training and kettlebell training.
For people in this category, something like the Cap Barbell Kettlebells are a great option as they offer great value and come in a range of weights from 15 to 70 pounds. You can find out more about the pricing and details of these weights on our Cap Barbell Kettlebell review page.
Good Levels of Strength and Experience with Freeweights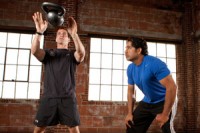 If you are an experienced weight trainer with good levels of strength and conditioning then you may need to get more than one kettlebell to allow you to train to your full potential. As you begin to perform more complicated kettlebell exercises, for instance when training your legs with kettlebells, you will start to use two kettlebell for some exercises. Also, having a wide range of different weighted 'bells to hand will allow you to perform a more varied selection of compound exercises that target large muscle groups and isolation exercises that work just one smaller muscle.
Being able to draw on a range of weights can really increase the number of exercises you can perform and help you undertake more varied workouts. Buying multiple kettlebells can become expensive and also take up a lot of room in your home gym area. If you are looking for good home workout ideas, one alternative option to having lots of weights is to invest in a set of adjustable kettlebells.
A good set of adjustable kettlebells will allow you to perform a number of different exercises, working large or small muscles with the same weight, simply by adjusting the number of plates that make up the kettlebell.  While these adjustable weights cost more than normal kettlebells, they do cost less than a whole set of weights and take up a lot less room. A good set of indoor adjustable kettlebells are the Rip 60 soft adjustable ones which are padded to prevent damage occurring when training indoors.
How to Choose the Right Kettlebell
So there you have it. If you are new to weight training in general we recommend you go for one of the beginner's sets that come with an instructional DVD to help you get started. These beginner sets often come with a few different weights to help you warm up and work your way up the scale.
If you have some experience of weight training or at least of using resistance machines, then pick an individual kettlebell in the 20 to 30 pound range. People new to kettlebell training often ask us how many kettlebells they need to get started and the truth is one is more than enough to start seeing results.
For those of you with a good background in weight training but are new to kettlebells, you might need more than one kettlebell to really get the most from your workouts. If you would rather not have lots of weights lying around, take a look at adjustable kettlebells as they can replace a wide range of weights with just one piece of fitness equipment.
We hope this article has helped you to pick the right kettlebell for your level of fitness experience. If you do decide to buy a kettlebell don't forget to check out our home kettlebell exercise pages.