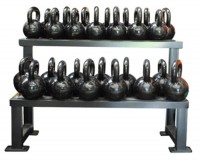 If you want to start training with kettlebells in order to get in great shape without having to join a gym, then one of the questions might be on your mind is 'how many kettlebells do I need?'.
Well the good news is that you can start training at home and getting real results with just one kettlebell.
This is due to the fact that these are perhaps one of the most versatile pieces of fitness equipment you can buy for the price. Sure, a home multi gym might let you perform a larger number of exercises, but who has the room or the budget for such a contraption? Not me, that's for the sure!
If you want to take your fitness needs and body shape into your own hands, then one of the best ways you can start training at home today is to get your hands on a kettlebell. For both men and women, kettlebell training is a great way to get in shape, lose weight or improve your fitness. Check out the best-selling kettlebells on sale to get started today.
What Body Changes can You Make with Kettlebell Training?
Depending on the exercise routine you follow, almost any fitness and body transformation goals can be achieved with kettlebell training. If you want to focus solely on getting toned and losing fat, then following a suitable kettlebell routine will help you achieve this goal.
If you are more interested in developing well-defined and full muscles then following a hypertrophy, muscle building kettlebell workout will see that you make the desired changes to your body.
Even those who want to improve their fitness levels, speed and agility can do so by working out with a kettlebell.  As they are such versatile pieces of home fitness equipment, you can do pretty much anything with the right routine and a kettlebell.
You can even develop a six pack with kettlebell training, as long as you follow the right routine, not to mention the right diet, for you goals.  However, if your goals are to become a bodybuilder and really pack on the mass and bulk up, kettlebell training on its own isn't going to be enough.
But Really, How Many Kettlebells Do I Actually Need?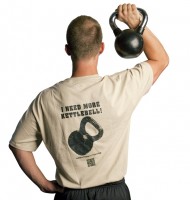 I'm not going to lie to you; in order to reach your goals and meet your health and fitness targets you are probably at some point, going to have to upgrade to a heavier set of weights. One or even two kettlebells aren't going to last you your whole fitness journey. This is because in order for you to keep progressing, whether that means building more muscle, getting stronger or becoming more toned, you will have to increase the amount of weight you exercise with.
To read about why you need to change your routine to continue seeing progress read this article on shocking your muscles.
If you keep lifting with the same weight for months at a time your body will get used to that weight and will no longer need to grow or improve.  This doesn't mean you have to upgrade your weights every few months, but you will need to change your routine to include harder exercises that require you to work harder with the same weight.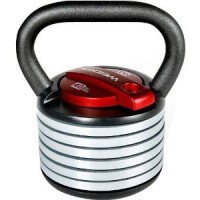 One way to extend the longevity of your purchase is to opt for a good set of adjustable kettlebells. These allow you to change the weight of the kettlebell easily and therefore will last you longer. However they are more expensive, so if you are starting out, a regular kettlebell might be a better option.
But for the first few months at least, you can start training at home, and get stated on the road to mastery of your personal fitness and body composition goals.
How to Pick a Kettlebell Weight?
By choosing a weight that is heavy enough to be difficult without going overboard and getting something you can hardly lift, you will be able to get the most out of your purchase and start training with just one kettlebell.
If you are new to working out and resistance training in general, then a 10 to 15 pound kettlebell should suffice for now. There are beginners sets that include three kettlebells of different weights available, which can ensure that you can get started quickly despite having limited strength and weight training experience.  Check out the beginner's kettlebell sets page now for more details of these products.
If your main goal is to build muscle then go for a heavier weight, as to grow muscle, you need to be doing around three sets of eight reps for each exercise. With that in mind try to pick a weight you can just about do that number of reps with.  Maybe a 20 pounds or above kettlebell will be suitable.
If increasing your fitness levels and burning fat is your number one priority, then go for a lighter weight that you can do circuit training style routines with. Perhaps 10 to 15 pounds again, as you will be doing 30 minute workouts with little rest between exercises.  If the weight is too heavy you won't last long enough.
In short there is no one size fits all answer to the question 'how many kettlebells do I need?'
You can get started with just one kettlebell which is what I recommend. Try some out in the shops or practice lifting items of different weights you have in your house like a large water bottle, a bag of books or a tin of paint. Get a feel the for weight of different objects and ask yourself if you could lift it above your heard, swing it around or do biceps curls with it in your hand.
By picking the right weight you can make the most of it for as long as possible before adding more equipment to your home gym. The best way to get started on the road to great fitness and a healthy body is to start as soon as possible and buying a kettlebell is one of the easiest and most cost effective ways to do so.
For some more tips on choosing your first kettlebell check out this article on starting your home workouts with just a kettlebell now.