If you're skinny fat I don't blame you for not wanting to join a gym.
When I was skinny fat, the last place I wanted to step foot in was a gym, that I thought would be teeming with people in great shape who knew what they were doing.
Turns out most gyms are full of people who aren't in the best shape of their lives, or at least the best shape they could be in. But before you join a gym you aren't aware of this. This makes joining one a hard task for some people. That was one of the main reasons why I started this site: to help people workout at home and get in great shape without the need for a gym membership.
So, if for whatever reason, you aren't ready to join a gym, there is no reason why you still can't get in great shape and get toned, lean, athletic looking and as aesthetic as you desire, all from the comfort of your own home. Most people don't have the space, spare cash, the need or the inclination to replicate their local gym in their spare room. Buying a full power rack and extensive set of weights and plates is overkill for most people. Sure it would be nice, but so would a home cinema or a games room. For most people, something like this is just not needed.
The Best Fitness Equipment to Shape up at Home
There are loads of pieces of fitness equipment that you can buy in order to start losing weight, building muscle and getting in great shape at home. We're going to take a look at some of the different types available, weigh up their pros and cons, and see which goals you might have that they will best enable you to reach.
Home Kettlebells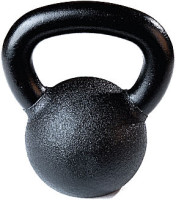 I love kettlebells. Just one piece of fitness equipment gives you access to so many different exercises and ways to work out and can help you do so many things. With just a couple of these weights, you can perform a powerful home resistance training workout that will help develop your muscles. You can also perform a high intensity circuit training session workout to mimic the type of cardio exercise you would need expensive fitness equipment like a treadmill or exercise bike to do. Kettlebell workouts for women and men can help you achieve most fitness goals and when you consider their relatively low cost, there aren't many reasons why you should overlook this piece of Russian weight training equipment.
Pros and Cons of Home Kettlebell Training:
Can perform a large number of exercises with just one kettlebell.
Works nearly all the main muscle groups.
Can undertake cardio, hypertrophy and strength training exercises.
Relatively inexpensive when compared to other home fitness equipment.
Might end up having to buy multiple kettlebells once past the beginner stage.
Requires quite a bit of space to perform some exercises.
Could damage walls or furniture if not used correctly.
If you just want to buy one small piece of home workout equipment then you can't get much better than the kettlebell in terms of the amount of options it provides. Whatever your goals, it is likely you can achieve them with the right kettlebell and a good routine.  Check out our ultimate guide to the best kettlebells for a guide to workouts and equipment.
Set of Dumbbells
If you are serious ab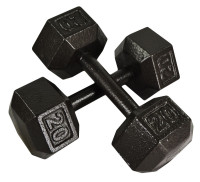 out no longer being skinny fat then you need to be lifting those weights. Both men and women need some muscle tone in order to get firm and eliminate the flabby parts. Dumbbells are relatively small in size and allow you to perform a large number of exercises. Combine them with an inexpensive weights bench and you can really ramp up the number of muscles you can work and exercises you can perform.
Pros and Cons of Using Dumbbells at Home:
Are great at building muscle which can put a stop to being skinny and fat.
Cost less than most other home fitness equipment.
Take up little space around the house.
Will require a good selection of weights in order to train to your potential.
Can damage the flooring if not used sensibly.
Used on their own, dumbbells aren't as versatile as kettlebells, but if used alongside a weights bench, you can see some excellent results.  As your strength improves, you will need to increase the weight you are lifting to continue seeing results. This means buying more dumbbells which can get expensive. Alternatively you could invest in some adjustable dumbbells as these will last you a lot longer.  Read our guide to the best adjustable dumbbells available to buy online.
Resistance Band Home Fitness Equipment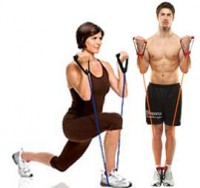 Resistance bands might not look like much when compared to kettlebells and free weights but these cheap and cheerful sets of rubber and plastic handles can deliver some surprising results. If you don't mind the bright colours and lightweight looking design, resistance bands are a great way to get rid of your skinny fat status. The best thing about resistance bands however, is how portable they are. I always take a set on holiday with me. The ability to do a few exercises in your hotel room, without having to visit the sub-standard hotel gym, is worth its weight in gold, in my opinion. Considering these sets can cost less than $30 they really are worth having. They make a perfect backup for those days when you can make it to the gym. The fact that they take up so little space means that no home should be without a set.
Pros and Cons of Home Resistance Band Workouts:
Probably the lowest priced, best value piece of home fitness equipment.
Can be used anywhere: both home and away.
Able to train multiple muscle groups and body parts.
Perfect for travelling and days when the gym is out of reach.
Won't last you forever when your strength starts to ramp up.
Can look a bit silly sometimes.
There are lots of resistance tubes on the market but its best to go for one of the big sets that contains lots of different types of tubes, bands and handles. This gives you more options and will ensure the set lasts you longer.  Lots of people wonder whether it is possible to build muscle with resistance tubes and the answer is yes.
Suspension Trainers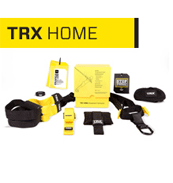 Suspension straps or trainers give resistance bands a run for their money when it comes to the portability rating. Out ot all the different types of fitness equipment that can help you beat skinny fat syndrome, and are easy to take on your travels, resistance bands vs. suspension trainers is a hotly contested battle. While suspension trainers are easier to use in some ways, they rely on your bodyweight to perform most exercises. Resistance bands on the other hand, require you to stretch the bands to get the workout. This is where they differ most, apart from the price, for which you pay more for suspension trainers. These straps are more popular than the bands, but you really should try the straps out before buying them, to see if they are for you. I do like using them at the gym but don't think I could do a whole suspension trainer workout, although many people do.
There are two main options when shopping for a suspension trainer. At the end of the day, the decision usually comes down to the TRX Suspension Trainer vs. the Jungle Gym XT. Although the Rip 60 suspension straps are a good option for home trainers too.
Pros and Cons of Suspension Trainers:
Great for travel and taking on the road.
Can exercise all muscle groups with a bit of imagination.
Take up very little space when not in use.
Probably the most single most expensive piece of home workout equipment.
Often require a doorway to get the most out of these suspension trainers.
If you don't mind the cost and want something that takes up hardly any space when not in use, something like the TRX suspension trainer can help you get in a fat burning, muscle building workout out at home or when on the road. They aren't for everybody though, so try before you buy!
What about Home Cardio Machines?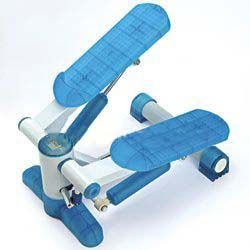 As I've covered before, cardio isn't the best way to put a stop to being skinny fat. If you only follow one approach to getting in shape at home it should be to build muscle in order to change your body type. This advice applies to women as much as men.  If you don't want any wobbly bits, you need to firm those areas up with some muscle tone and you can't do that with cardio training. Not that there aren't some great pieces of home cardio equipment on the market. But if you only want one or two bits of kit, it's probably not the best use of your time or money.