As part of our look at the best suspension trainers on the market, it's now time to review the WOSS Military Strap Suspension Trainer.
This WOSS Trainer one of the most popular products of its type and a large part of the reason behind this is due to its low price and its excellent value for money.
While this option might not be the best for those running a commercial gym, for the home fitness enthusiast, it's a perfect option. Not only is it very affordable, but it's also extremely versatile, giving you plenty of options for performing a suspension workout.
So while its value for money is undisputable, let's take a look at some of its other features to determine whether this WOSS trainer is a good choice for you.
WOSS Trainer Review: Product Description
So while we know this is a very affordable piece of home workout kit, let's find out if it's good enough quality for regular, serious workout at home, or on the road.  With this product you will never be short of home workout ideas.
Well to start with, this WOSS trainer has been designed to be portable. This means it's ideal for anyone looking for a way to get a workout in when away from home, perhaps when staying in a hotel, or even when training outdoors. If you like to combine your workouts with some more traditional forms of fitness, such as running, then being able to sling this lightweight trainer into your bag and then hook it over a tree for some suspended bodyweight exercises will really appeal to you.
WOSS Trainer Review: Hotel Workout Ideas
Regular travellers who are away from home, either on business or pleasure, will also find plenty of reasons to love the WOSS trainer. As it's so light and portable it can easily be packed in your luggage and then setup in your hotel room, using the fixtures and fittings to get in some really effective workouts.
Product Accessories
This budget trainer comes with everything you need to anchor it to a door, allowing you to securely fasten it in place without the need to do any DIY around the house, or wherever you are staying. The two adjustable buckles that form part of this trainer allow you to adjust the height of the straps, giving you plenty of options for the type of exercises you can perform, as well as adjusting the intensity of the workout.
This system can be anchored to a door using a built in door anchor present on the military strap. The built in door anchor is also perfect for tree trunks, branches, rafters, and open beams. This system can easily be taken to your local gym and attached to an available bar. Many customers have mentioned that they have also taken this system to the park or attached it to their children's playground structure to work out.
Product Uses
This is a body strength building system and can be used in a number of ways to help you to get in, or remain in shape. The main type of workout that can be performed using this piece of equipment is suspension training. This type of training can cover the whole body including back, bicep and core exercises.
From reading the custom reviews and from personal experience, many uses have also mentioned that they use this training system for tyre dragging. As this system is easy to pack and carry it is perfect for taking to gyms, offices, parks and even on vacation.
When purchasing this great value WOSS suspension trainer, you will also receive a drawstring bag to store the system in before and after your workouts. Also in the box, you will get a two sided full body quick start exercise sheet to explain how best to use the training system.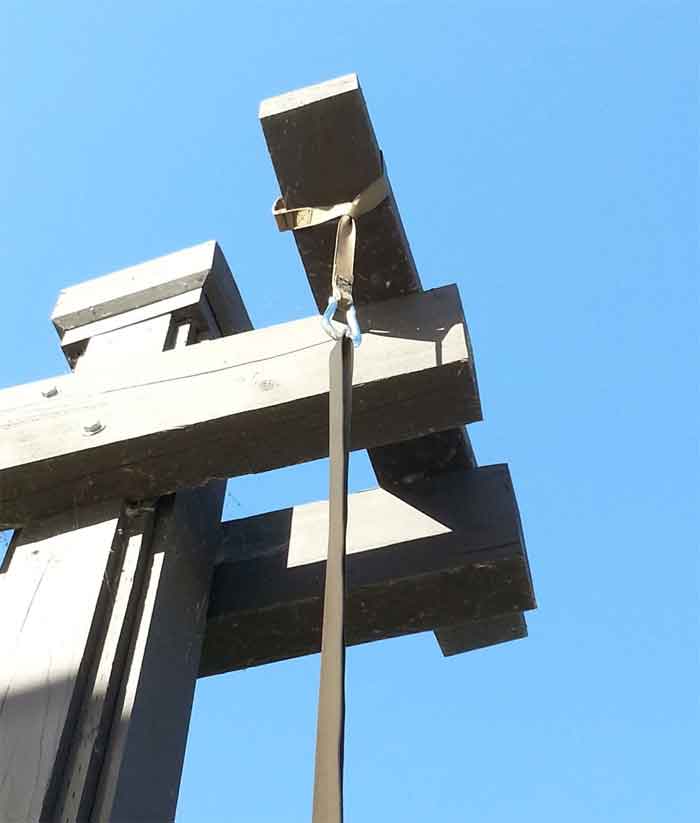 As this is a value-priced product, it's a bit of a no-frills approach to packaging. The trainer doesn't come in a shiny box and there are also no DVDs included. If you do need some advice on getting started with suspension training then be sure to read some of our articles or check out the many videos on YouTube.
WOSS Trainer: Customer Ratings
When it comes to picking a product in a crowded market such as home workout equipment, then using the customer ratings left on services like Amazon.com can be an invaluable resource. When it comes to this product, the WOSS suspension trainer gets full marks from the people who've bought this item with their own money. With a 5 star rating, it's hard to not be impressed by this product. In fact, from the 85 customers who left a review, 72 of them gave it full marks.
Read the Customer Reviews of this Suspension Trainer
Competitors
Most customers sending in their reviews compared this particular training system with the TRX suspension system. The customers mainly loved the fact that this particular system is a complete suspension workout system and comparable to the far more expensive TRX suspension system, while costing only a fraction of the price.
Almost all customer reviews compare it to the TRX and find it equivalent in quality. They also stated that at $24.99, this training system was a real bargain as it was a fraction of the cost of the TRX suspension system which costs $150-$200.
While many people compare the Jungle Gym XT vs. the TRX trainers, it seems this budget offering from WOSS is a worthy contender for the award of best suspension trainer. If you are unsure which products are available, read our suspension trainer comparison guide.
WOSS Military Strap Trainer
$
Excellent Value
Very Popular
4.8 out of 5 Stars
Most Popular
Lifeline Jungle Gym XT
$$
Durable
Great Value
High Quality
TRX Suspension Trainer
$$$
Professional Grade
Lots of Extras
Highly Durable
Pros of the WOSS Military Strap Suspension Trainer
As mentioned above this training system has a five-star rating with rarely a bad review mentioned on Amazon. Most customers find it economical and worth the money they paid for it. They also mentioned that the delivery was fast and on time and there was a follow up on whether the product received was satisfactory from the suppliers.
Portability of the training system was also a major factor which pleased customers as they could carry this system in a back pack, attach it to their bike, take it to the gym or office. Generally, customers found this product easy to assemble and to start using. The product can be used when viewing TRX exercises on You Tube. Furthermore, most buyers felt that it was
Generally, customers found this product easy to assemble and to start using. The product can be used when viewing TRX exercises on YouTube. Furthermore, most buyers felt that it was easy to switch between the different types of exercises that can be done on this system.
Most of the customers found the product to be of high quality, the material used to be comfortable and the straps to be easily adjustable. Customers also felt that it was
Customers also felt that it was durable and able to last a long time despite hectic workout routines. Furthermore, a few of the customers also stated that the customer service help line also provided very useful as the company representatives would call you back if you left a message.
Cons of the WOSS Strap Trainer
As mentioned earlier on in this product review, the cons of this particular training system were far and few between, but it would worthwhile to look at these to get a true sense of this product and make an informed decision when comparing suspension trainers.
The cons of this training system, which were mentioned by a few customers are: that while the training system itself was of good quality it was unable to bear the load of heavier individuals – although it was fine for people of average and slightly heavier weight; when they received their package of the training system – one or a couple of parts of this training system were missing and the company had to be contacted again.
A small number of customers stated that they found it confusing to assemble the system as the instructions were inadequate. They would have preferred to have a DVD showing them how to use the system. (Although the vast majority were satisfied with the two-sided instruction page and looking up suspension exercises on You Tube).
WOSS Trainer: Review Summary
The WOSS Military Strap Suspension Trainer represents excellent value for money, priced at around $30 it's immensely affordable when compared to the $200 TRX suspension trainers.
Despite the low cost, there has been little sacrificed in the way of quality, with only the no-frills approach to the packaging and marketing being a noticeable difference between this and competing products like the Jungle Gym XT from Lifeline USA and the TRX options.
With a solid five star rating from customers on Amazon.com this WOSS Trainer has proven to be a very popular product. Users love the portability and the ease with which it can be packed up and taken on the road, allowing you to get in an effective workout wherever you are.
While there were a few complaints from customers, such as its inability to support very heavy users, overall, the vast majority were very happy and we share their opinion on this product.
If you want an affordable suspension trainer that is comparable to the high-end products then you can't go wrong with this Military Strap Suspension Trainer from WOSS.
Click here now to get the WOSS Suspension Trainer now