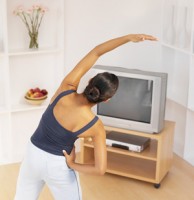 If your idea of a relaxing evening doesn't involve going to the gym and pounding away on the treadmills or exercise bikes then you can still achieve your fitness goals of losing fat and getting in shape without ever setting foot in a gym or leaving the house.
In fact, even if you'd rather spend your evenings at home in front of the TV watching your favorite shows or films you can still meet your targets and burn a considerable about of calories without ever having to leave the house and tear yourself away from in front of your home entertainment center. Even if you love the outdoors and hitting the gym having the option to train at home can be a blessing when you are short on time or the weather is just too unpleasant to venture outdoors. Depending on the home fitness equipment you chose you could even get in a round or two on your favorite console game while working up a sweat.
This article aims to show you that there is more than one way to skin a cat when it comes to getting in a fat zapping workout even if you don't have the time or the inclination to visit the gym.
Combine Watching TV with Fat Loss
If two of your goals in life are to keep up with the latest season of The Apprentice and get a beach body to be proud of then the good news is that these two goals are not mutually exclusive. This means you can achieve both goals at the same time. There are a few options to help you do this and which one you choose depends on a few key things such as:
How much space you have at home
What your budget is
How strenuous or relaxing you want your workout to be
Now, in a previous article I talked about how weight training was the best way to lose fat in the long term and get a toned, athletic physique but there is still a place for cardio training if you want to increase your fitness levels or lose fat and it makes a great accompaniment to weight training.
Weight Training While Watching TV
Not only is weight training one of the best ways to change your body as it burns fat while also getting you toned and in great shape but it is extremely easy to do at home while watching TV. In fact you don't even need any equipment to get started with this type of training.  You can get some ideas for a home workout without any equipment in this article.
Cardio Training in Front of the TV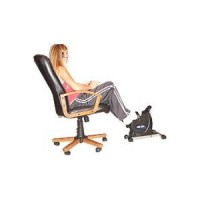 Cardio training is an excellent way to improve your fitness levels which has great health benefits but it is also an ideal way to burn off those calories. Doing a cardio session in the evening after a hard day at work can be quite difficult to get motivated for but if you combine it with watching your favorite film or TV show then it can make it much more tolerable. If you are watching something engrossing then you might even forget you are doing any exercise at all!   If you pick a show that it a set amount of time then you can workout alongside it and be sure you get your allotted amount of exercise in. Pick a 30 minute show for a quick workout and something lengthier for a more thorough workout. But what equipment do you need to get in a cardio workout in front of the TV?
The Best Home Cardio Options for a TV Workout
Most people don't have the luxury of a spare room they can convert into a gym and even those that do often have other uses in mind for the spare room such as a study, play room or just a fun hangout for kids or adults. If the idea of having a small piece of equipment you can bring out for some front room exercise appeals to you take a look at some of these home cardio products that can help you meet your goals while also conveniently fitting into your lifestyle:
Mini Exercise Bikes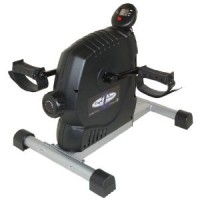 The mini exercise bike is perhaps the archetypal piece of home workout equipment for those who want to get in a home cardio session while doing something else such as working at their desk or sitting in front of the television. Due to their relatively low cost and small size they aren't a large investment in terms of cost or space requirements and they can easily be stored away when not in use. They are very simple to operate and don't require any setup once they have been initially assembled. This means you can quickly whip out your mini exercise bike when you decide it's time for a workout and get straight to work without having to fiddle with any settings or additional equipment. You can either sit on your sofa or settee and place this piece of small exercise equipment in front of you or you can use it while sitting at a desk with the mini stationary bike at your feet under the desk. These mini exercise bikes can also be used to train your arms if you place them on a desk or table but for the best results we recommend you operate them with your legs but it is nice to have an extra option for your workouts. These products would make a great choice for someone who works at a desk all day and would like to burn off calories while they work as well as being perhaps the perfect accessories for a productive evening of television viewing.
The best-selling mini exercise bike is the MagneTrainer ER Mini Exercise Bike which has a great customer feedback score on amazon.com although there are cheaper options out there should you be on a budget.
Exercise Peddler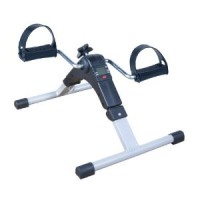 These are similar to the mini exercise bikes mentioned above but they cost less and are more basic in terms of design and features. If you really want a lightweight solution to your home cardio needs then a small exercise bike like this could be the answer to your prayers. They too can be tucked under a desk for some discrete cardio while at work or can be placed in front of you while sitting comfortably in front of the TV. There really is no limit to the number of places you can use one of these exercise peddlers, only your imagination will hold you back!
The best-selling piece of home workout equipment of this type is the Drive Medical Deluxe Folding Exercise Peddler which is currently half price on amazon and comes equipped with a digital display to let you know how long you have been exercising for, your revolution count and how many calories you have burned. It also has a large number of positive customer reviews.
While not as robust as the mini exercise bikes these peddlers cost a fraction of the price and take up hardly any space making them easy to store away and vastly more portable. If these are important considerations for you then take a look at the best-selling peddlers on amazon by clicking here now.
Mini Trampoline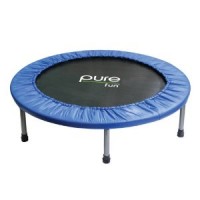 When it comes to choosing a piece of home workout equipment that is fun and easy to use then a mini trampoline tops the list. You can do all sorts of exercises on these trampolines from jogging on the spot to jumping jacks and shadow boxing.
Hold a pair of adjustable dumbbells in your hands while bouncing to give your workouts an extra level of resistance and you can easily make a leisurely cardio workout a tough and challenging session.
The legs usually fold down on these mini trampolines so they can be stored away slightly easier than it may first appear but if space is limited then they might not be the best solution for you. They are pretty cheap when compared with other small exercise equipment and if you want a bit of novelty with your training then they might be just the thing for you.
To view the best-selling mini trampolines on amazon click here now.
Folding Exercise Bikes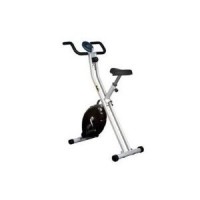 If you want the convenience and features of a regular exercise bike but don't have the space to devote to one then a folding exercise bike is the next best thing. The good news is they are often a lot cheaper than the regular non-folding ones so not only do you save space but you save money!
There are a number of different types and makes to choose from and there are lots of good deals to be had. There are two main varieties which are the folding recumbent bikes on which you sit down on a seat and pedal with your legs outstretched in front of you and the more conventional stationary bike design where you sit on a saddle and the pedals are positioned under the seat.
While the folding recumbent bikes are more comfortable they take up more space and tend to be more expensive.
To view the options available to you when shopping for a folding exercise bike click here now.
Which Option is Best for You?
When it comes to working out at home some approaches are better than others. For the average person with an able body I would generally always advocate following a weight training program first and foremost if their goals are to burn fat while getting toned and in great shape.
But at the end of the day it is most effective to choose an approach they you will stick to over the weeks, months and even years.
There is no point choosing the most effective fat burning method if it is not something you will enjoy doing. If it quickly becomes something you start to loathe and have to force yourself to do it won't be long before you give up entirely. Therefore it is better to do something that is quite effective on a regular basis than something that is very effective occasionally. So with that in mind think carefully before deciding what approach you are going to apply when working out in front of the TV:
Physical Exercises without Weights such as press-ups, squats, jumping jacks and burpees.
Home Weight Training using dumbbells or kettlebells or even a mini home gym.
Home Cardio Training using jump ropes, mini exercise bikes, folding elliptical trainers or full sized exercise machines.
Whatever you think you will do the most often is the best choice to make for you!
If you are looking for some more home workout ideas check out these recent articles:
If you found this article useful don't forget to click on a social button below to share it with your friends.