The New Year is approaching and it is time for some resolutions. Exercising more and starting a new healthy regime are always good choices, no matter the time.
It doesn't have to be a drastic change. You don't need to spend all your money on a gym membership and clothes.
You can start from exercising on your couch, in front of the TV. There are a couple of simple exercises you can do and today I would like to introduce you to some of them, and to some of the simple equipment you might need.
1. Resistance Bands
Resistance bands are great for stretching, improving your core strength, and for performing cardiovascular exercises.
They are cheap and small, so they won't take much of a storage space.
There is an excellent choice of resistance bands and their prices are very affordable.  Exercising with bands is simple and seems effortless.
Sit on the couch and fold the band in half. Loop it around the front of your foot and start bending your knee and straightening your foot forward.
Remember not to do it too violently, so you don't hurt yourself.
Another great exercise with the resistance bands is the front squat.
Stand on your band with your feet wide apart – it doesn't have to be wider than shoulder width. Take the handles with your hands and pull the band over your shoulders. Now, squat – chest up, abs firm, pressing knees out of your toes.
2. Remove Tension with Foam Rollers
Foam rollers are another great invention. They are used for releasing muscle tightness during the exercises, which decreases your chances of injuries. Sometimes they can also be used to substitute for hands, elbows and forearms to make exercising a little bit easier.
Sit on the floor with your legs straight out. Put the foam roller under your calves. Support your body with your straight hands and knees by placing them by your sides, with fingers pointing out. Lift your bum slightly. Slowly roll along the back of your legs up and down from your knees to your ankles.
Lay face down and put the roller under your hips. Let the toes of your right leg touch the floor. Put your left leg over your right one. Roll up and down from your hips to your knee. Change sides.
3. Dumbbells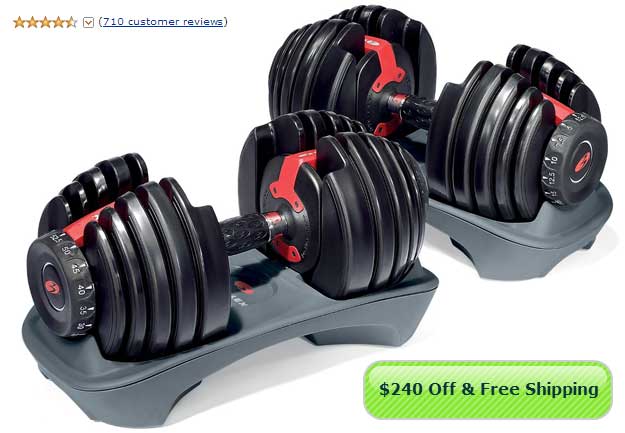 Dumbbells are an essential piece of experience equipment for anyone who wants to get in shape from home. You can use them anywhere at home and exercise even while you are sitting on a couch. There are a lot of different ways you can use them.
Start from standing while holding a dumbbell in each hand. Now bend your elbow and bring the dumbbell up and down. You can repeat the same exercise and add squats to it.
Do some shoulder presses – you can either do it by raising both of your hands up, or by raising one while lowering the other.  Getting a pair of adjustable dumbbells can save you space and allow you to increase the weight as your strength and endurance grows.
4. BOSU Balance Trainer
There is no easier exercise than those you can do with a BOSU Balance Trainer. Simply stand on it with your hands at your sides. That's it! You don't need to do anything else. Your body will do a small workout just by trying to find a balance. You can challenge yourself a little and either lift both of your arms, or close your eyes.
5. Suspension Straps
Suspension straps can be considered the next step up from resistance bands.
If you've got the space, then hooking a set of suspension straps over the back of a door gives you a powerful way to workout at home – no matter what your goals are.
From getting in a quick cardio blast, burning fat, or building muscle, suspension trainers have been proven to help you realize your fitness and health goals. Prices range from very affordable, right through to expensive models that wouldn't look out of place in the most premium of commercial gyms and fitness centers.
If you want the most flexibility from your TV workouts, then picking up a suspension trainer is highly recommended.
Final Thoughts
There you have it, four pieces of exercise equipment that make it easy to get in a range of different workouts while at home watching TV.
If you don't have the time or inclination to hit the gym, there's no reason why you still can't get in shape.
What are your favorite home exercises and which equipment do you like using at home? Please share your thoughts in the comments below.