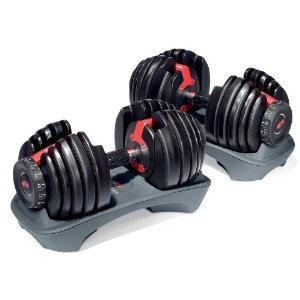 We recently did a feature on whether cheap adjustable dumbbells were worth investing your money in  so we thought we'd better follow it up with some adjustable dumbbells reviews to help you find the right set of weights for you.
If you use a gym that has this type of weights or take a look at any of the best sellers on fitness equipment websites then you will probably find the Bowflex SelectTech 552 adjustable dumbbells featured prominently.
If you are familiar with these weights then you will know why they are so popular. Just by looking at them you can tell that they are high quality merchandise but it's not until you actually get your hands on them and give them a try that you realise just how good they are. For adjustable dumbbell sets to be worth considering over regular dumbbells they need to be easy to adjust.
Bowflex SelectTech 552 Review
There's no good having a set of weights that you have paid extra for so you can adjust them but that when you actually come to changing the weights it takes a lot of time and effort as can often be the case with cheap gym equipment.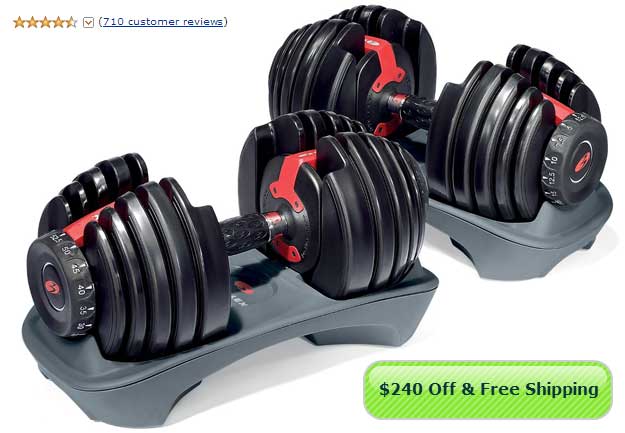 Being able to change the weights easily like you can with good adjustable dumbbell sets means you can also use them for performing supersets as you can move from one exercise like the dumbbell bench press for which you would use a heavier weight before switching to an exercise you would use a lighter weight for like perhaps the bent over dumbbell row.
If you are using cheap gym equipment and not a good pair of adjustable dumbbells then you will waste valuable seconds or even minutes faffing around with the adjustable dumbbells rather than getting straight into the next set. This is where a high quality piece of fitness equipment like these adjustable dumbbells from Bowflex comes into their own.
Bowflex SelectTech 552 Adjustable Dumbbells Product Features
Hopefully you now understand the need for a high quality set of changeable weights and to find out why we think these adjustable dumbbell sets from Bowflex are just the ticket check out the product features straight from the manufacture:
Both dumbbells are adjustable from 5 pounds up to 52.5 pounds or 2.2 kg to 23 kg and are adjustable in increments of 2.5 lbs.
Easy to switch from one weight to another saving you time in gym between workouts.
Suitable for a wide range of exercises in both home and professional gyms.
Saves valuable space as they eliminate the need for multiple sets of dumbbells.
Comes with a two year warranty in the event of damage occurring to the adjustable dumbbell sets.
The Best Adjustable Dumbbells
When it comes to the SelectTech 552 adjustable dumbbells from Bowflex the price might be high but they are the best product in their class but don't just take our word for it. Check out some of the customer feedback left by people who have actually paid their hard earned money for this set of weights, many people agree that these are the best adjustable dumbbells available:
"Excellent solution for P90X or those that don't want a house full of weights"
"Amazing home workout tool"
"BEST DUMBELLS EVER!!!!"
"Spend the money and get these, 100% worth it"
"Can't complain, even if I tried."
Of course you can't please all of the people all of the time and in the interests of fairness we should take a look at some of the less positive feedback from customers left on amazon.com:
"Great Design, its just the ruggedness thats the problem"
"Was expecting better quality, but still happy"
"Conveniently compact, inconvenient to use"
So as you can see these weights are not perfect but with over 350 customer reviews on amazon.com alone and an average rating of 4.3 out of 5 most people were more than happy with their purchase. If you are interested in buying the Bowflex SelectTech 552 adjustable dumbbells then we suggest you have a look at the customer feedback on amazon.com as there is quite a lot of good information there from people who have bought or are using these weights.
To read the customer reviews click here now.
Summary: Are these the Best Adjustable Dumbbells?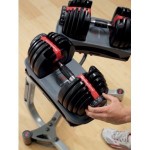 So to surmise, if you are looking for cheap gym equipment then these are not the adjustable dumbbell sets for you due to their substantial price tag but if you want a professional-grade set of weights that will save you time, space and allow you to perform a large number of exercises at different poundages then the Bowflex SelectTech 552 are perfect for you.
We hope you have found this feature useful; keep an eye out for more adjustable dumbbells reviews in the coming weeks as we look at the some of the other products on the market.
To get the full details and the latest pricing information on these free weights click here now.