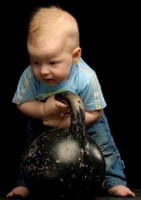 If you are thinking of taking the plunge and having a go at kettlebell training then congratulations!
Kettlebell training is not only effective, but it is fun and can help you achieve many fitness related goals. It is also perfect for home training, as with just one piece of home fitness equipment, you have access to your own home gym for hardly any financial outlay at all.  Not to mention the space saving aspects of kettlebell training!
In fact some of the best kettlebells cost less than $50 which if you compare that to a gym membership, you can see how cost-effective this type of training is.
To find out more about which kettlebell to get visit our kettlebell reviews page now.
So What is the Best Kettlebell Weight for a Beginner?
For those of you that are new to weight training altogether, you are best off starting with a kettlebell from the lighter end of the spectrum.  Learning the techniques for some of the more complicated kettlebell exercises, like the swing or Turkish getups can be quite tricky.  Trying to learn these new exercises with a weight that is too heavy can make those exercises even harder to master.
With kettlebell training, like all weight training, having the correct form when executing the moves is much more important than how much weight you are lifting. With that in mind I would recommend a 10 to 20 pound kettlebell for someone who is completely new to resistance or weight training.
Beginners Kettlebell Sets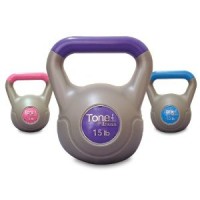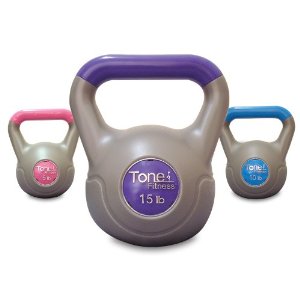 There are actually specially designed kettlebell sets for beginners which come with a selection of weights to help ensure you are using a weight that you are comfortable with. They often come with instructional DVDs to help you learn the moves and give you a routine to follow.
One example of popular beginners kettlebell set is the Tone Fitness Kettlebell Set which comprises of three different weighted kettlebells to help get you started. At the time of writing there is 50% off this set which brings the price down to $29.99. This is a bargain and great way to ensure you get started with this type of training without spending too much cash. To read our review of this set and get the latest pricing click here now.
Another set that is great for those that are new to working out and lifting weights is the Kathy Smith Kettlebell Solution. This set comes with an exercise wall chart of easy reference and an instructional DVD to help get you started. The set comes with two kettlebells which weigh three and five pounds each. This package has been designed to appeal to women but men who can overlook that and are very new to exercise can also use this package to get started and begin their journey towards getting in shape at home.  You can read our review of this set here.
Experienced Trainer But New to Kettlebells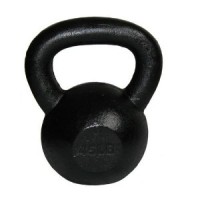 If you've been going to the gym for a while or working out at home and would like to add kettlebell training to your routine, then you could start with a heavier weight than those mentioned above. Something like the Solid Cast Iron kettlebell from amazon.com is available in a range of sizes from 10 to 30 pounds. To ensure you pick the right kettlebell for your level of experience think about the amount of weight you can comfortably lift in the gym and then choose a kettlebell that is slightly lighter. This should make allowances for performing new exercises that are slightly more difficult to perform than regular barbell and dumbbell compound movements.
Hopefully this article on the best kettlebell weight for beginners has helped you determine how heavy your kettlebell should be. This type of exercise is perfect for home training and is just one of many home workout ideas that can ensure you achieve your goals.
For more articles and tips like this, sign up to our free email newsletter today: click here to sign up.